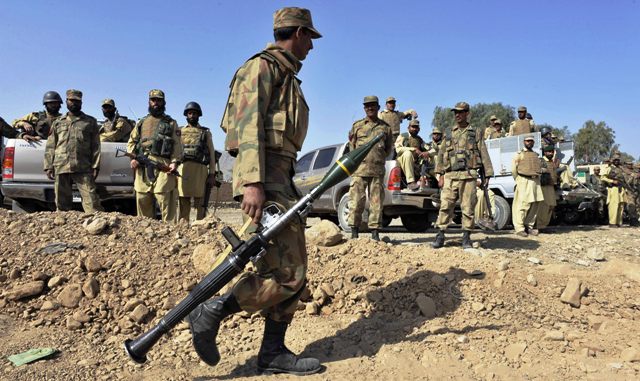 ---
QUETTA: Security forces gunned down eight militants linked to attacks that killed 17 people this week in the restive southwestern province of Balochistan on Saturday, officials said.

Provincial home secretary Akbar Durrani said six insurgents were killed while exchanging fire with paramilitary troops in the Mach area of Bolan district, 70 kilometres (44 miles) southeast of the provincial capital Quetta.

Durrani said the troops surrounded the militants' hide-out and asked them to surrender but the insurgents opened fire.

He said the militants were linked to an attack on Tuesday that killed 14 people including three security personnel after stopping vehicles at a fake checkpoint.

Meerak Baloch, a spokesperson for the Baloch Liberation Army, had earlier claimed responsibility for the killings.

Two militants were shot dead by paramilitaries in the neighbouring Mastung district, Durrani added, where a bomb Wednesday killed a woman and two children at a market thronged by people shopping for Eidul Fitr.

Regional administration official Syed Waheed Shah confirmed the insurgent death toll.

The bodies of six insurgents were brought to Quetta, but so far nobody had claimed them, Durrani said.

On Friday, gunmen opened fire on worshippers leaving a mosque on the outskirts of Quetta after prayers for Eidul Fitr.

The attack outside the mosque came a day after a Taliban suicide bomber killed 38 people at a police funeral in the city. Violence has continued unabated in the country since the new government took office in June.

The United States announced on Thursday that it had evacuated all non-emergency staff from its consulate in Pakistan's second-biggest city Lahore, citing "specific threats" amid a worldwide alert over Al-Qaeda intercepts.

The US State Department also reiterated a longstanding warning to US citizens to avoid all non-essential travel to Pakistan, in a statement issued late on Thursday by the Washington Times.
COMMENTS (21)
Comments are moderated and generally will be posted if they are on-topic and not abusive.
For more information, please see our Comments FAQ