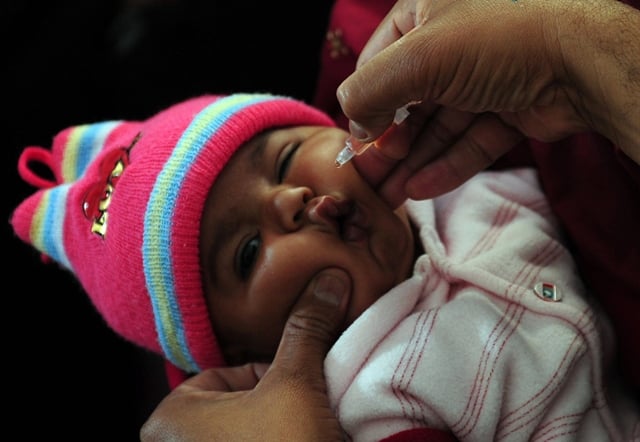 ---
KARACHI: A one-year-old girl from Gadap Town's Machar Colony neighbourhood has been diagnosed with polio, making her the second victim of the dreaded disease in Karachi this year and the third in Sindh.

Sana, daughter of Noor Mohammad Kakakhel, is resident of Gadap Town's infamous UC-4, Gujro, with a predominantly Pashtoon population which has a history of resistance and violence against polio vaccination drives in this area in the past.

The provincial health department's additional secretary, Dr Masood Solangi said that stool samples from the girl had tested positive for the presence of Poliovirus type P-1. The samples had been sent for examination to the National Institute of Health, Islamabad after she was brought in with symptoms of Acute Flaccid Paralysis almost a month ago.

"It is the third case of Polio in Sindh and the 26th in the country this year," said Dr Solangi, adding that a joint team of the Sindh Health Department, World Health Organisation (WHO) and Unicef will visit the area to examine the status of immunisation as well as the possibility of other cases.




According to sources, the child's parents hailed from Khyber-Pakhtunkhwa while the case history of the victim as to whether she was vaccinated earlier or not will be ascertained after the probe. Dr Solangi said that the law and order situation and the attacks on the anti-polio teams in the city had affected at least three vaccination drives.

Meanwhile, the WHO, based on its Lot Quality Assurance Sampling (LQAS), has rejected the quality of the campaigns conducted in UC-4 of Gadap during the last three years, said its senior official while talking to The Express Tribune.

"According to the WHO's global standards, an area's campaign is deemed as satisfactory if at least 95% of the children are covered," said the WHO official. "The LQAS randomised computer-based surveys, however, had confirmed that vaccination remained less than the 95 per cent benchmark in UC-4 during the last three years and the Pakistani government had been subsequently warned to step up their efforts in this regard."

A technical specialist, associated with the WHO, told The Express Tribune that the recent sewage overflow and the extremely low coverage of children in Gadap's UC-4, coupled with the high-transmission season for the polio virus, were the perfect ingredients for the mega outbreak of polio virus in the city.

"The biggest challenge will be to conduct the emergency mop-up rounds, required to be conducted within 10 to 15 days after the confirmation of a polio case, as suggested by the WHO global guidelines."

Published in The Express Tribune, August 9th, 2013.
COMMENTS (1)
Comments are moderated and generally will be posted if they are on-topic and not abusive.
For more information, please see our Comments FAQ