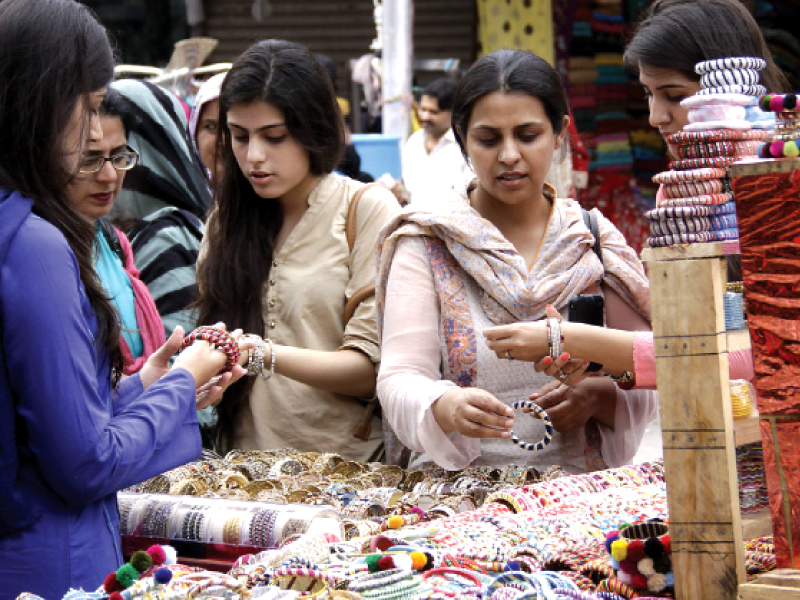 ---
BAHAWALPUR:



As Sania Bibi rummages through jewellery displayed at an Eid stall in Rangeela Bazaar, her two baby daughters drag her by the dupatta to draw her attention to an adjacent stall. They want to make sure that they do not return home without bangles that match their Eid clothes.




Eid shopping begins a few days before Ramazan, but reaches its peak on chaand raat, the night after moon sighting. The shopping includes clothes, shoes, bags and jewellery. Bangles are often purchased on the last day of Ramazan.

"Last minute shopping is great fun. I always leave shopping for bangles till the end. By then, we know the colours we want and the quantities," says Sania Bibi.

But shopping for bangles on chaand raat has its disadvantages, too. Bangle sets that are sold between Rs40 and Rs150 before Ramazan are sold for up to thrice the price.

Sumaira Rashid, who is accompanied by her husband and a three-year-old daughter at the Chowk Bazaar, believes that prices have risen by 100 per cent.

"I had to send bangles to my cousins in the UAE. I bought four sets two weeks ago for Rs100 each. Today, the same shopkeeper is selling them for Rs250 each," she said.

A bangles set for her baby daughter costs her Rs75.

Muhammad Amir owns a jewellery shop at the Sarrafa Bazaar. He has also set up stalls in front of his shop.

Talking about the prices, he says there is no manufacturing unit in Bahawalpur region. The bangles have to be purchased from Hyderabad and Karachi.

He says after paying the sales tax and transportation costs, there was little left for the shopkeepers.

"It's not as if women don't bargain. They are never satisfied otherwise. So we always keep a Rs10-Rs20 margin for that."

Amir says there are mainly three types of bangles: glass, metal and plastic. Plastic bangles are mostly meant for little girls, he says.

Meena bangles are painted. Their usual rate is Rs40 per dozen. However, around Eid, they are sold at Rs70 per dozen.

"If beaded bangles are added to a set, the price goes up to Rs250 to Rs300," he says.

He says other bangles are decorated with silk threads, beads, etc. and are called Hyderabadi bangles, Morai bangles and Shehzadi bangles.

Maryam Bibi, a housewife looking for customised bangles sets, says she has bought only one set. She says she had initially planned to buy three.

"Three sets will cost me nearly Rs1,000. That's the price of my dress that I got for Eid."

She says she has bought a customised set of golden and silver bangles, a neutral colour that she can wear with almost all colours.

Eid stalls have been set up at Rangeela Bazaar, Shahi Bazaar, Chowk Bazaar, Chowk Bazaar, Sarrafa Bazaar and Baksh Market.

Published in The Express Tribune, August 9th, 2013.
COMMENTS (1)
Comments are moderated and generally will be posted if they are on-topic and not abusive.
For more information, please see our Comments FAQ