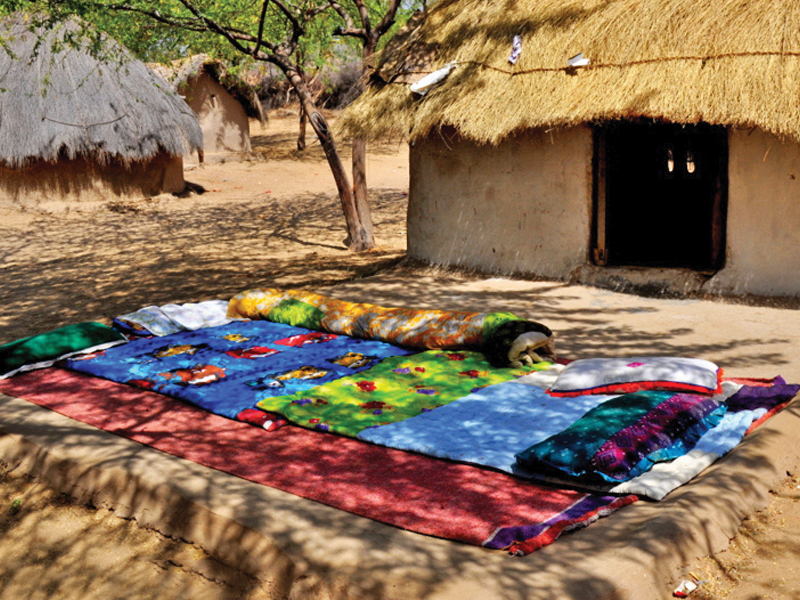 ---
SUKKUR: While the rest of Sindh takes the rain as a nuisance after a short while, the residents of Thar welcome the monsoon showers with arms wide, faces turned towards the open skies. Women express their joy by swishing in the puddles outside, children dance in

the rain.

This happiness is not unfounded. While the recent spell has wreaked havoc in many cities, including Karachi, Hyderabad, Larkana, Sukkur and Jacobabad, it has proved to be a blessing for the Tharis – as it always has been.

Skies open up, prayers answered

Most of Thar is rain fed, completely dependent on rainfall for sowing vegetable and fodder.

"For Tharis, rain is a matter of life and death," explains Tapedar Maharaj Mahesh. "This cannot be overstated."

According to Mahesh, while some areas, including Kunri, Chachro, Naukot, Mithi, and Islamkot, get sweet water from the Jamrao and Mithrao canal other areas are mostly dependent upon rainwater and wells. Well water is very salty.


Contrary to the rest, Thar residents are well prepared for the rain and welcome it. PHOTO: FARAHNAZ ZAHIDI/ EXPRESS

"Tharis are also dependent on their cattle, and rain also plays a vital role in the survival of these animals," he says. "Therefore, the residents are always happy when it rains."

The Elixir of Life

Thar is different. When it comes to rain, and dealing with it, very much so.

Dr Ramesh Kumar, programme manager of the participatory village development programme, elucidates how the land in the region is uneven, so rainwater doesn't accumulate on the roads, and only in some ponds dug specially for that purpose.




"The rains deliver a message of life to the Tharis. They start sowing fodder and vegetables; mushrooms grow, which they pick, dry and store. These mushrooms, tasting like meat, are then consumed or sold," he says. "In the beginning, they are sold for Rs600 per kilogram, but then the price comes down to around Rs250 per kilogram. Similarly, cluster beans are also dried and consumed throughout the year."

Apparently, sesame, daal moong, and bajra are also cash crops.

Journalist Dewan Khatri agrees with Kumar that, in this respect, Thar is quite different from other areas of Sindh.

"Water is the main issue in Thar, so they [have made arrangements]," he states. "Almost 50 per cent of Sindh's cattle are in Thar. When Tharis fear drought, they simply move to the areas blessed with sweet water, and then move back when it starts raining."

According to Khatri, heavy rains do not cause much harm in Thar, except damaging katcha houses.

"Unlike other cities, water doesn't accumulate on roads or on agricultural land," he says. "Sometimes, torrents gushing down of sand dunes minimally damage crops. But not much."

In this vein, Mahesh says that tankers of sweet water, costing around Rs2,000, are not available in most areas. The water from a tanker is sufficient for four to five months. Furthermore, Tharis have constructed huge underground tanks for storing rainwater.

Darshan Malhani, son of former MNA Moti Malhani, reiterates that water is the biggest issue worth safeguarding in Thar.

"The Thar Coal Authority has installed 250 Reverse Osmosis Plants throughout Thar," he says. "Thousands of plants are still required. Water is crucial everywhere, but especially here."

Published in The Express Tribune, August 8th, 2013.