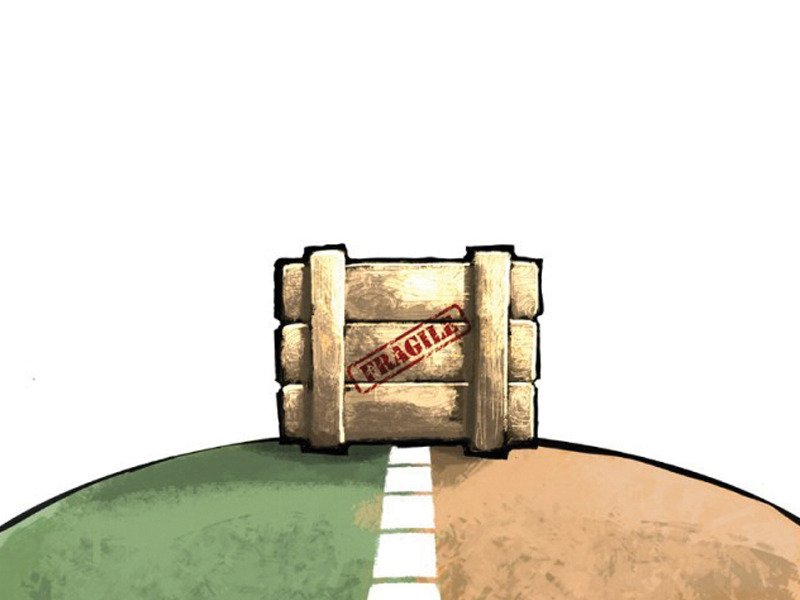 ---
ISLAMABAD:



The World Bank has advised the Pakistan Muslim League – Nawaz (PML-N) government to normalise trade relations with archrival India and open its borders, while also urging the country's economic planners to adopt pro-consumer policies by moving away from protecting handpicked domestic industries.




The Washington-based lending agency in its policy note on "Reinvigorating the Agenda for Opening Trade" urged normalisation of trade with neighbouring India, which will boost Islamabad's exports to New Delhi by at least 40%.

The (policy) advice comes at a time when tensions are relatively high. The policy note was authored by Jose G Reis, Daria Taglioni, Charles Kunaka and Nihal Pitigala, and is part of about one and half dozen policy notes addressing all major macroeconomic challenges the country is facing.

The note said that complete normalisation of trade relations with India, including opening the borders, will facilitate deep forms of trade integration. "The measures are necessary to benefit from India's growth and to promote complementarities," the note added.

India that witnessed a healthy growth in the first decade of the twenty-first century is now facing slower economic growth, but is still almost double that of Pakistan's sluggish growth rate. According to many articles published recently in international journals and newspapers, India's continuous growth will now hinge on its ability to introduce the second phase of reforms.

The note stated that Pakistan's exports to India are 40% below their potential. Similarly, Pakistan is a key missing market for India.

Both the countries had embarked upon a trade normalisation process in early 2011 by significantly progressing on mutually agreed agenda. However, the process was again halted when Pakistan refused to give the 'most favoured nation' status to India after New Delhi failed in its promise to address Islamabad's concerns on other disputed matters.

The international lending agency said both countries should focus on expediting measures to facilitate trade, build on the recently signed agreements on mutual recognition of visas, and improve infrastructure and regulatory frameworks.

It advised Pakistan that all impediments to trade at borders, especially at Wagah-Attari border should be removed. Further, the bank said Pakistan and India should negotiate a transit trade treaty to give New Delhi access to Kabul – a suggestion that is contrary to Islamabad's foreign policy.

It also advised that population on both sides of the Pak-India border should be integrated by establishing common border markets aimed at improving living standards of the people who are the poorest due to underdevelopment of the border regions.

World Bank also critically reviewed the country's overall trade policy and recommended an overhaul. The note said current trade policies have become oriented towards providing extra protection to the margins of select local producers. According to Planning Commission of Pakistan's report in 2011, out of 906 manufactured products granted tariff exemptions, 91% benefited a signal local monopoly producer and 5% benefited only two producers. The benefits excluded smaller producers from the benefits.

The lending agency said Overall Trade Restrictiveness Index suggests that the country's overall restrictiveness has increased – a phenomenon believed to be associated with increasing complexity of the national trade policy and with the reversal of some of the early progress towards reforms.

The policy note said that industries such as beverages, tobacco, motor vehicles and vegetable oils are enjoying high level of protection. It added protectionism discourages production of high value-added products. The note particularly highlighted the flaws of the indigenisation programme, available to the automobile sector.

It also found faults in customs management as customs officials enjoy discretionary powers in cargo inspection, providing them an opportunity to mint money from importers and exporters. "Inspection decisions are often accompanied by informal payments," said the WB note, affirming a long-held belief of deep-rooted corruption in the Federal Board of Revenue.

Customs controlled systems perform limited functions and do not have a risk management module. "Pakistan Customs computerised system randomly selects containers, but this can be overridden by an officer, creating opportunities for informal payments," the note said, adding "procedures for inspecting transit cargo are neither transparent nor efficient".

The bank advised that the incumbent government should give priority to abolish the distorted and highly complex tariff structure. The domestic market protection generates an anti-export bias. It has suggested eliminating all the regulatory duties as concessions on inputs remain a source of economic inefficiency.

In the first and immediate phase, it suggested reducing, immediately, top tariff rate to 25% and move to a transparent three-band structure of 25%, 10% and 0%. In the medium-term, the government should consider phasing out regulatory duties and eliminating exemptions outside the trade agreements and free zones. The move will benefit higher value-added products export-oriented sectors like chemical products, machinery and equipments.

The policy note stated that over the medium-term, despite tariff reductions, government's revenues will significantly increase.

Published in The Express Tribune, August 8th, 2013.

Like Business on Facebook, follow @TribuneBiz on Twitter to stay informed and join in the conversation.