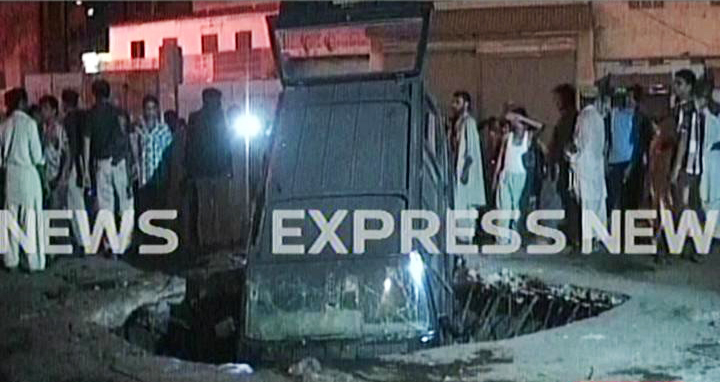 ---
A football ground in Karachi's troubled Lyari locality turned into a battlefield when a bomb went off on August 7 after an early morning football match had just concluded. The match was being played as part of a Ramazan football tournament being held in the area. Eleven persons were killed as the remote-controlled device placed on a motorcycle exploded. Most of the victims were teenage boys or even younger children, some still in football kits as the explosion shook the vicinity. The target was believed to be provincial minister Javed Nagori, the chief guest at the tournament who had given away prizes just before the blast struck. Mr Nagori had been elected from Lyari during the May elections. The PPP leader has in the past blamed the law-enforcement agencies for the unrest that has affected Lyari now for many months, and is himself seen as being supported by the People's Amn Committee (PAC) — the group many believed picked the PPP candidates for the polls. It is thought that this affiliation may have motivated the attack on Mr Nagori, who has also faced attempts to kill him in the past, notably during his election campaign.

The situation in Lyari is tied in to the politics of Karachi and the rivalry between various parties. The problem has so far proved impossible to resolve. Leaving the political dimensions aside, the violence has inflicted terrible damage on ordinary people. For years, Lyari was known as a centre of sporting and cultural activity in the city, a place where various ethnic groups lived together. The bomb blast simply illustrates the extent to which things have changed, with violence almost constantly hanging over the area. It seems that the PPP and the Sindh government have forgotten Lyari because the violence there has gone on without respite. Even children playing football are, it seems, not spared and this tragic situation is one that somehow or the other needs to be changed, so that Lyari and its people can regain some of what they have lost over the years.

Published in The Express Tribune, August 8th, 2013.

Like Opinion & Editorial on Facebook, follow @ETOpEd on Twitter to receive all updates on all our daily pieces.