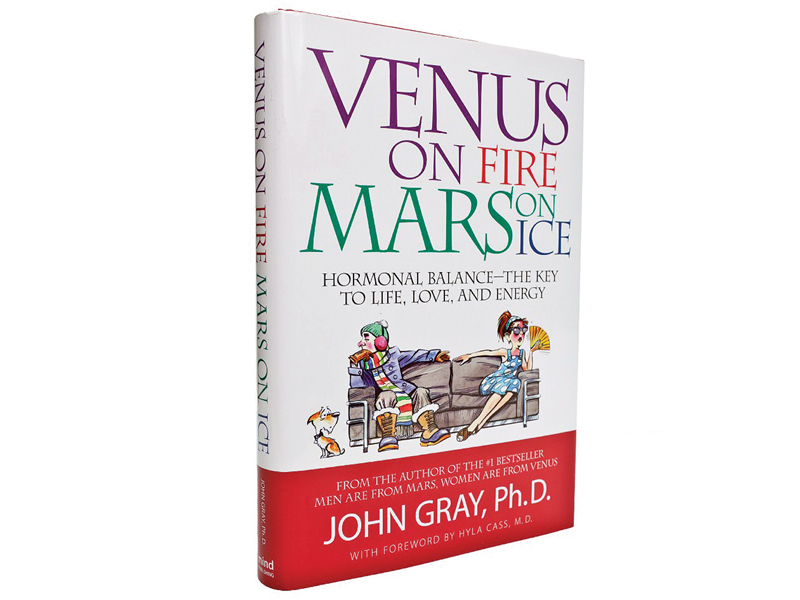 ---
We all have days when we can't understand our problems and try to look for a solution. But we don't know where to look. John Gray's new book Venus on Fire, Mars on Ice is a solution. It shows how stress affects relationships, and highlights the different gender responses to emotional and physical stress. The book deals with what men and women can do to help each other understand hormonal balance. At least it helped me bridge the communication gap with my husband.

Gray underlines the significance of two hormones: oxytocin for women and testosterone for men. The more women take on the same responsibilities as men, the less oxytocin they make, and the more men take on female responsibilities, the less testosterone they make.




To start out, he points out how gender roles in a marriage were previously defined — women were to stay at home while men were breadwinners — and how the dynamics have changed today. With more working women today, the stress at home has increased. It is therefore important to understand hormonal changes and the effect they have on our mood and eventually our relationships.

Stress levels in urban and rural settings vary though. According to Gray, living in urban areas can be more stressful because of increased noise pollution. When it comes to relieving that stress, he notes (in his geographical context) that twice as many women as men are taking antidepressants, which can (but not always) result in weight gain. One study reveals that during a moderately stressful situation, a woman's brain has eight times more blood flow in the emotional part as compared to a man's brain.

The food we eat plays a key role too. Good nutrition produces the right hormones and balances them and simple changes in diet can go a long way in transforming relationships. When you are under stress, sugar and organic food can help. Along with food, a good night's sleep, five to eight hours, can also help you cope better.

Tips and practical knowledge are plentiful in the book, with one chapter entirely devoted to them. For instance, to ensure a continuous supply of feel-good hormones, women need to talk. And if they are denied the opportunity of express their feelings, women experience stress and feel neglected by their spouses. On the other hand, men need to do things their way and they need the time and space to do it. Instead of looking for ways to improve themselves, they attempt to do things that they are best at and seek appreciation for it. And when a woman acknowledges that, she helps restore his testosterone levels.

Gray notes that both men and women can be motivated to lead happier lives together. The key is to manage your stress which according to the writer is the single most important factor in dysfunctional relationships.

Relationship Rescue:

Men, Women and Relationships: Making Peace with the Opposite Sex




Relationship expert John Gray in this book enables you to recognise and accept the differences between you and your loved one, equipping you to avoid inevitable bumps in your love-life. He explains the different ways men and women communicate, cope with stress, resolve conflicts, and experience and give love.

Why Can't You Read My Mind?




Psychologist Jeffrey Bernstein in Why Can't You Read My Mind? reveals the nine toxic thought patterns that poison and end relationships. Bernstein offers a simple yet powerful approach for breaking the negative thinking cycle and helps readers establish positive thinking for solving their problems and dealing with the stresses of everyday life.

Marriage Rules: A Manual for the Married and the Coupled Up




Marriage Rules offers new relationship advice to age-old problems in a unique format. Dr Harriet Lerner gives readers more than one hundred rules that cover all hurdles and lead to a perfect long-lasting relationship.

Published in The Express Tribune, Sunday Magazine, August 11th, 2013.

Like Express Tribune Magazine on Facebook, follow @ETribuneMag on Twitter to stay informed and join the conversation.
COMMENTS
Comments are moderated and generally will be posted if they are on-topic and not abusive.
For more information, please see our Comments FAQ