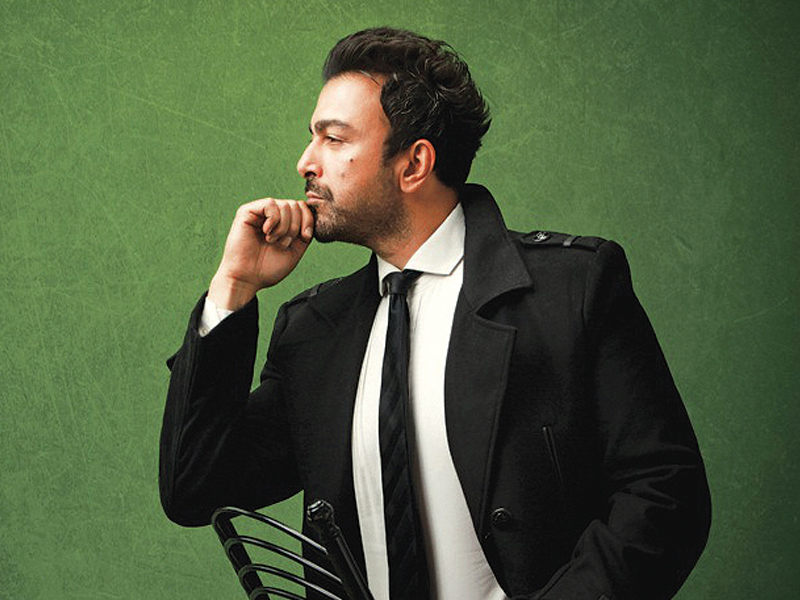 ---


It wasn't too long ago that we heard Shaan saying he is hesitant over working in Bollywood or associating himself with an Indian project because, as a Pakistani, he has a patriotic duty to promote and value local work. However, it seems that Shaan has had a rather quick change of heart as he is all set to re-make Mahesh Bhatt's controversial film Arth in Pakistan.




Shaan has always involved himself in projects that focus on Pakistani values or has some element of patriotism. But, at the same time, his films are known to highlight the modern aspect of Pakistani lifestyles, such as his role of a musician in Khuda Kay Liye. However, considering that the masses of our country are generally conservative, it comes as a surprise that Shaan picked a movie like Arth for a re-make. "I'm trying to tell the world through this re-make that whatever the society does today, wherever they are, is all the same. Whether it's Hollywood, Bollywood or Lollywood, such things are commonly seen everywhere these days and it is the reality of life," said Shaan in an interview with the Times of India. "I'm sure people in Pakistan will accept the truth today of what is happening. Times have changed now, today the generation is far advanced and they are open to watching such realistic movies."




Apparently, there is a confusion regarding who called who for the adaptation but according to producer-director Bhatt, it was Shaan who called to re-make the original version. He calls this an "emotional transaction," between the two industries. The story of the film will be scripted by Bhatt camp's regular writer, Shagufta Rafique, and will be a collaborative effort between Bollywood and Lollywood. "As the film is going to be based in Pakistan, we will cast Pakistani girls. Apart from writing, I will also be involved in the casting of the film," said Bhatt. "All the technicians, however, will be from India."

According to Shaan, the movie will be based in Lahore and he already has Humaima Malik in mind for the role played originally by Smita Patel. "The original movie was done in the '80s so I want to bring some changes in the re-make and experiment with the characters of the movie. I want to potray the character as relating to today's world. Also, I want to shoot the movie in Lahore and we shall be including some prominent actors of Pakistan like Humaima Malick, who will play the role of Smita Patil," he said.

However, like many other Indo-Pak collaborative efforts, this one hasn't come without its share of criticism and controversies either. Word has it that the producer of the original version, Kuljit Pal, is unhappy with Bhatt's decision to transport the rights of the movie to a Pakistani producer. "It appears that Mahesh Bhatt has committed an offence, misleading Pakistani producers by assigning them the rights of Arth that legally belong solely to us. You all are advised not to deal with Sri Mahesh Bhatt for Arth," said Pal in a public notice, reported ibnlive.in.com.

Bhatt, on the other hand, has completely dismissed Pal's notice. "The Public Notice issued by the producer is apparently speculative. The words 'it appears that Mahesh Bhatt sold the rights' says it all that the producer is not sure about the facts and has not bothered to know the same before issuing the notice," he said.

Bhatt is known to have a soft spot for Pakistan and actively works towards finding a common ground between the two countries and this, too, was another initiative of his to strengthen relations between the two countries.

With Pakistani cinema still struggling to revive fully as many hyped films continue to get delayed in making it to the screens, we really hope that this re-make sees the light of the day and does not lose its charm amidst controversies and funding issues.

Published in The Express Tribune, August 8th, 2013.

Like Life & Style on Facebook, follow @ETLifeandStyle on Twitter for the latest in fashion, gossip and entertainment.
COMMENTS (10)
Comments are moderated and generally will be posted if they are on-topic and not abusive.
For more information, please see our Comments FAQ