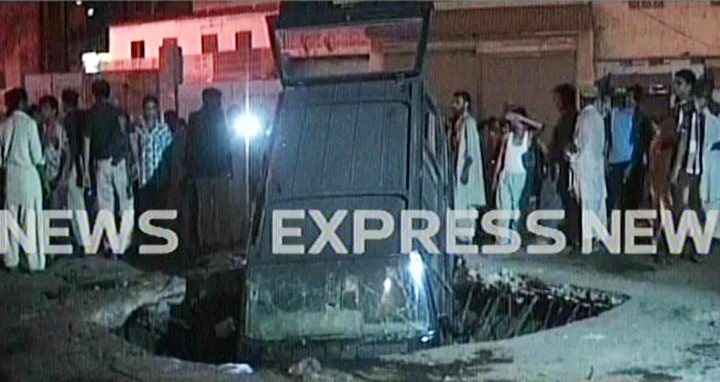 ---
KARACHI: At least 11 people killed, including children, and26 people were injured when a bomb went off outside a packed football ground in the densely populated area of Lyari in Karachi early on Wednesday morning, Express News reported.

Prominent Lyari resident and MPA Sania Naz claimed that blast occurred when footballers and members of the crowd were leaving ground after the Ramazan Football Tournament came to an end.

The apparent target of the blast was Provincial Minister for Kutchi Abadis and Spatial Development Jawaid Nagori. He was also the chief guest at tournament and was reportedly injured in the blast.

According to Peoples Youth Committee president Shabbir Khan the bomb went off just as the minister along with the players and members of the crowd were exiting the stadium after the prize distribution ceremony.

Express News correspondent Aslam Khan said that explosives material had been planted in a motorcycle.

As a result of the blast, minister's car was also destroyed, and the paving on which it was parked gave way as well.

The injured and the dead were shifted to the Lyari General Hospital, Civil Hospital and Jinnah Hospital. Express News correspondent Nadeem Khan said that doctors had removed pieces of metal and ball bearings from the injured. The majority of the dead and injured included children between the ages of six and 16. Some were even still in their football kits.

Bomb disposal squad said that the explosives were detonated using remote control.

"The bomb was planted on a motorbike that was parked outside the stadium, killing seven, many of them teenage boys," police official Tariq Dharejo told AFP. He confirmed that the bomb was a remote controlled device.

This is not the first attack on Jawaid Nagori. He was previously attacked during his election campaign in May this year.
COMMENTS (19)
Comments are moderated and generally will be posted if they are on-topic and not abusive.
For more information, please see our Comments FAQ