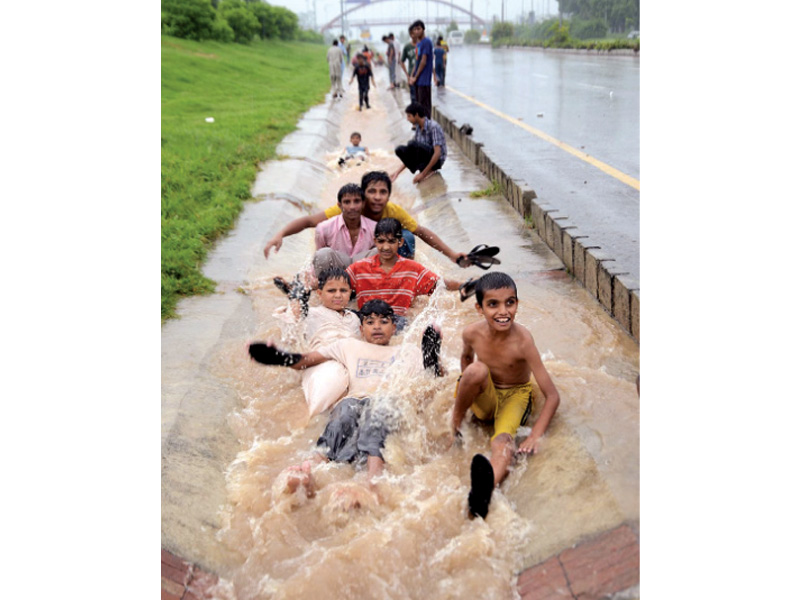 ---
RAWALPINDI:

A pre-alert flood warning was issued by the Water and Sanitation Agency (WASA) on Tuesday after heavy rains came down on the twin cities, inundating low-lying areas and leaving the city looking more akin to Venice.


The downpour began sometime after Sehri and continued for several hours with sporadic rain throughout the day in Islamabad and Rawalpindi. Massive traffic jams were caused by the inundated roads, especially in Sadiqabad and on Rawal Road in Rawalpindi. The worst traffic jam was seen on the bustling Benazir Bhutto Road, where the water was over a metre deep at some points. Scores of commuters were stuck for hours on the main artery of the garrison city, which soon saw raw sewage mixing in with the water as the waste lines became clogged.




Massive traffic jams were reported on Islamabad Highway, Club Road, Margalla Road, Radio Pakistan Chowk and Saidpur Village. The 'red alert' status of the federal capital did not help commuters as all entry points were overloaded with vehicles due to the single passage of cars through every check-post.

Bushra, a resident of Shamsabad told The Express Tribune that it took her one-and-a-half hour to reach Aabpara Market from her house, a trip which normally takes around 20 minutes.

Even the diligent Islamabad Traffic Police (ITP) officials were up in arms, with ITP Spokesman Naeem Iqbal admitting that "during heavy rains, things go beyond our control".

He said that the ITP makes all efforts to ensure a smooth flow of traffic during rains, but it becomes difficult to do so in heavy downpours.

Iqbal also lent credence to commuters' complaints about police pickets, saying they are one of the major causes of traffic jams.

Residents further complained that the poor management and response of city officials in clearing the roads had hampered their Eid shopping plans just days before the festive celebration.




Rawalpindi city officials were witnessed opening clogged drains in Gawalmandi, Chaklala Scheme III, Muslim Town, Chamanzar, RA Bazaar, Ratta Amral, Dhoke Hassu, Dhoke Kala Khan, Sadiqabad and Shamsabad as residents reported water flooding their houses.

Rana Bilal, a Small Dams Organisation official, told The Express Tribune that the spillways of Rawal Dam were opened as the reservoir had reached its maximum level.

The water level in Rawalpindi's Nullah Leh also rose to 14 feet, while the tributaries of the Leh were flooded with garbage.  Talking to The Express Tribune, Wasa Managing Director Muhammad Akram Sobhan said there is a threat of floods but noted that the warning was issued as an early precaution.

"We have made arrangements to handle any kind of emergency situation," he said, adding that staff from Wasa, the cantonment boards and municipal bodies are working "non-stop" to clear the clogged drains.

According to the Met office, Shamsabad and Chaklala in Rawalpindi received 85mm and 60mm of rain respectively where as Islamabad received 42mm at Saidpur and 9mm at Golra.

Published in The Express Tribune, August 7th, 2013.