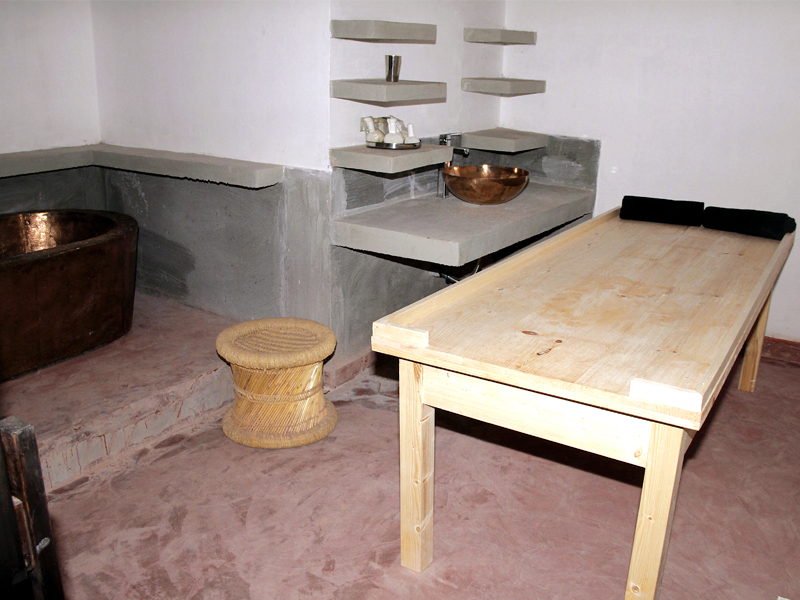 ---
LAHORE:



Arammish, Lahore's most beloved spa, is in the midst of launching a full-service health spa but not many know that a section of their new premises is already open to clients through an 'appointment only' policy.




With life getting busier, spas seem to offer the perfect relaxation spot to put real life on hold for a while and indulge in exotic pampering. Hence, the environment and décor of the spa need to be such that they exude sheer peace and harmony to those visiting. Arammish seems to understand its customers' priorities well and thus, is green to the fullest and will be running on solar power.

Amna Habib, owner of Arammish, is not only a practiced yogi but also an expert in ayurveda. While the main spa is still being renovated with certain sections under construction, the side that is open to clients is a little haven of ayurvedic delights.

"I am introducing authentic ayurveda here," says Habib. "It is based on the clients 'dosha' analysis — something that nobody else is offering, really." The environment, work, food and travel, all contribute to the well-being of an individual and collectively determine the 'dosha'.

Dosha analysis determines the constitution of an individual and helps the trainer understand the sort of treatment will best suit an individual client.

"We develop a series of treatments according to the findings of the analysis," continues Habib. "Every treatment has a healing property — relaxation is only a part of the process but not the end goal. We have to balance the energies of the client in order to complete the healing of mind, body and soul."

While there are specific treatments for hair loss, acidity, joint pain and other issues, Arammish is also providing the shirodhara treatment. "This is a treatment for the third eye," explains Habib. "It enhances the mental ability of the client and helps in performing better by promoting deep, meditative and relaxing thoughts."

Based on similar energy healing patterns, other treatments include sweat therapy, massage therapy and various kryas (cleansing practices to maintain a healthy body and mind).

Having a passion for natural ayurvedic techniques that help purify the mind, body and soul, Habib points out that her spa will focus on classical ayurveda.

"There are so many natural techniques that can help cure both, simple and complicated, issues. For example, for someone who suffers from acidity, we use spherical balls of dough to form a crater on the stomach and then place heated medicinal oil in the crater, which is allowed to sit for 30 minutes. The oil is then massaged on the abdomen which realigns the intestines," elaborates Habib.

Along with shirodhara treatment, Arammish Spa also offers Abayanga Massage at their 66 FCC Road premises. "This is a four-hand massage incorporating vigorous movements to release toxins from the 'Marma' points (energy points) and the oil used varies from client to client based on the Dosha analysis," says Habib.

These treatments are available by appointment, only on Wednesdays and Fridays. With spas and wellness treatments becoming a global trend, there is no doubt that ayurvedic treatments will also probably become a la mode. Till then, we wait for the entire spa to start functioning in full swing.

Published in The Express Tribune, August 7th, 2013.

Like Life & Style on Facebook, follow @ETLifeandStyle on Twitter for the latest in fashion, gossip and entertainment.
COMMENTS
Comments are moderated and generally will be posted if they are on-topic and not abusive.
For more information, please see our Comments FAQ