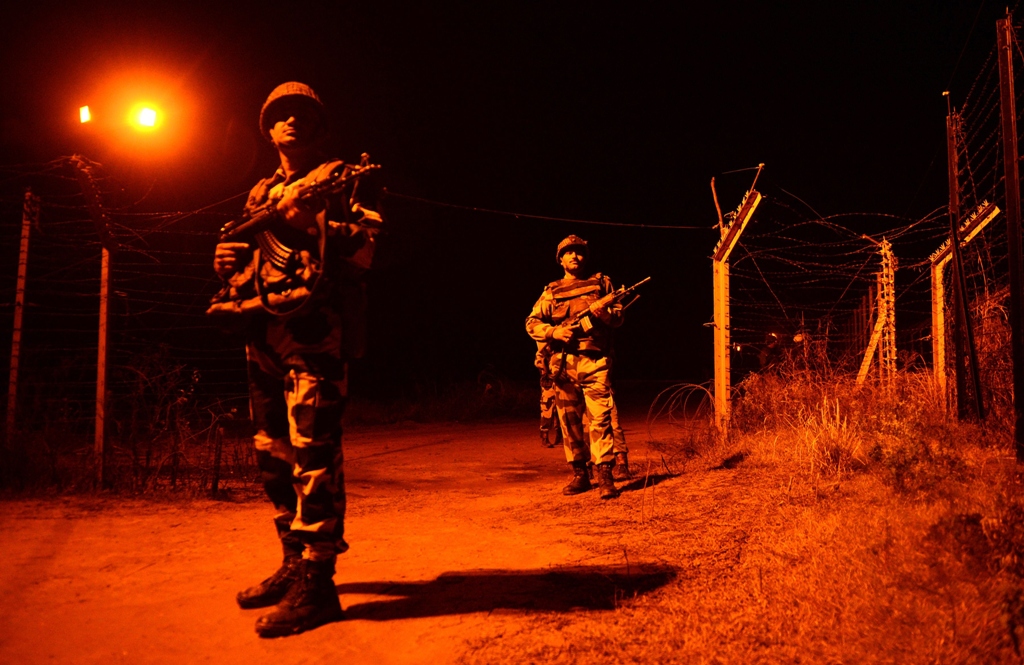 ---
NEELUM VALLEY (LOC)/ NEW DELHI/ ISLAMABAD: Pakistani security officials denied any involvement on Tuesday in the deaths of Indian soldiers on the disputed and heavily militarised border in Kashmir.

"No Pakistani troops either crossed into India nor carried out any unprovoked firing. The Indian allegations are totally baseless," a Pakistani military spokesperson told AFP in Islamabad.

Another official, who also spoke on condition of anonymity because he was not authorised to speak to reporters, denied there had been an exchange of fire on the border between the nuclear powers. "There was no such incident whatsoever," he said. "There was no firing on the border."

A statement issued by the foreign ministry in Islamabad in response to a strong protest lodged by the Indian government over the reported incident, Pakistan termed the allegations as "baseless and unfounded."

Foreign ministry spokesperson Aizaz Ahmed Chaudhry said Pakistani military authorities confirmed that no such exchange of fire, which could have resulted in such an incident, had taken place.

The spokesperson said Pakistan remains committed to the ceasefire agreement of 2003. "The ceasefire agreement is an important confidence building measure and should be respected in letter and spirit."

Soldiers on patrol

Earlier during the day, Jammu and Kashmir chief minister claimed that five Indian soldiers were killed in an attack along the disputed border, in an attack that comes just days after Pakistan proposed resuming stalled peace talks with India.

The talks were called off in January following an attack on the border in which one Indian soldier was decapitated.

"Was briefed early this morning about news that five of our soldiers had been killed on the LOC. My heartfelt condolences to their next of kin," Jammu and Kashmir Chief Minister Omar Abdullah said in a Tweet, referring to the Line of Control dividing the two countries in the region.

"These incidents don't help efforts to normalise or even improve relations with Pak & call in to question the Pak Govt's recent overtures," he said.


These incidents don't help efforts to normalise or even improve relations with Pak & call in to question the Pak Govt's recent overtures.

— Omar Abdullah (@OmarAbdullah) August 6, 2013


"We strongly condemn this unprovoked incident," Defence Minister AK Antony told lawmakers amid calls from the Indian opposition for a "powerful" response from the military.

"The attack was carried out by 20 heavily-armed terrorists, along with persons in Pakistani army uniform," he said, speaking in the Indian capital.

"The government of India has lodged a strong protest with the government of Pakistan through diplomatic channels," Antony added.

Officials in Indian-administered Kashmir said that the attack had taken place late Monday at a military outpost around 200 kilometres (124 miles) south of the state capital Srinagar.

"Pakistani troops simply attacked the Indian post, violating the ceasefire, and they killed five of our soldiers," a senior army official in Indian Kashmir told AFP on condition of anonymity.

Another senior army official said that a sixth soldier who managed to escape the attack was now being treated in a military hospital in Kashmir.

"He is badly wounded and is being treated for multiple injuries," said the official, also on condition of anonymity.

Hopes of progress in the beleaguered peace process had risen in recent weeks but Omar Abdullah, the state's chief minister, said that the attack would undermine efforts at rapprochement.

Earlier, Indian firing killed one Pakistani soldier and wounded another on Saturday in Kashmir. According to the Inter Services Public Relations, the incident took place at 10:30am and there was no evident reason for the firing.

While the Pakistani Army accused Indian troops of staging an "unprovoked" attack across the countries' disputed border in Kashmir, the Indian army said it had fired in a "calibrated manner" in response to Pakistani firing.

Border violation near Sialkot

The Pakistan Army also accused Indian forces of another border violation late Saturday.

According to ISPR, the Indian Border Security Force resorted to unprovoked firing on the working boundary near Sialkot. No loss of life was reported. The statement added Pakistani troops responded effectively to Indian firing.