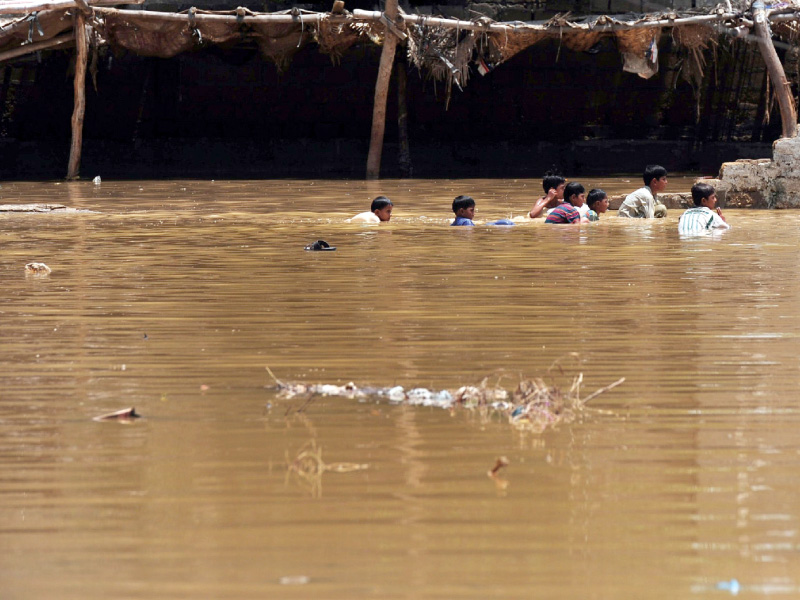 ---
MULTAN/ QUETTA/ ISLAMABAD/ HYDERABAD:



The head of the National Disaster Management Authority on Monday downplayed the flash flooding calamity that hit parts of the country last week, insisting that things were under control for now but warned of challenges in the upcoming weeks and months.




Still the NDMA is ready to take on these greater challenges expected in the upcoming months, its chief Major General Muhammad Saeed Aleem said.

On Monday, Maj Gen Aleem, accompanied by climate experts and Minister for Science and Technology Anusha Rahman, gave an overall review of the present floods situation across the country.

Arif Mehmood, the metrological department chief, said that although rainfall recorded in July was 30 per cent less than last year, the August rainfall caused flooding across different parts of the country.

According to the chairman, heavy rainfall began 31st July and the impact from these rains was felt 1st August onwards.

However, he said, with communication and coordination with the district and provincial authorities, everything seems to be under control.

As more rainfall is expected in September, the authority fears flash flooding and hill torrents across different parts of the country particularly in the central part.

In his presentation, Brigadier Kamran Zia said that Rajanpur and Jhal Magsi were areas of concern this year. But since none of the rivers seem to have sent high flood signals the authorities are at ease. For the month of September, a plus or minus 10% rain is expected as compared to last year when the  rain recorded was 15% more than the predicted forecast.

For the moment, NDMA does not need to mobilise international donors as it already has sufficient funds. Maj Gen Aleem said that the authority will utilise the resources available and might not seek foreign assistance this time around. "At the moment, we are going to work with what we have," he added

Anusha Rehman, minister for science and technology, said that both the PDMA and NDMA have been working closely on various issues from disaster risk reduction to disaster management. "We have to minimize floods for which the provinces and the districts should be prepared" she said.

An NDMA summary put the number of deaths from the rain calamity at 58. Ten fatalities each were reported from Balochistan and K-P. Another 15 deaths were reported in Punjab, 8 from Sindh, 12 from Fata and 3 from Azad Kashmir. Crops grown on 135,051 acres of land were affected nationwide. Some 15 relief camps have been set up in Punjab and Sindh.

Four electrocuted in Hyderabad

Four children of a family were electrocuted to death on Monday in Hyderabad. Two sisters, Kainat and Sawera, and their cousins, Deedar and Iqbalan, were returning home after buying confectioneries in Junejo Colony in Qasimabad taluka when the tragedy struck. They were wading through a puddle on a street where a wire connected to an electric pole was anchored. The residents claim that they contacted the Hyderabad Electric Supply Company for help, but received no response.

Three dead in Rajanpur

Three people have died in the Lunti Saeedaan area of Rajanpur district, DCO Ghazi Amanullah told The Express Tribune.

Some 90 villages and 11 union councils were inundated after hill torrents swept past rural areas in the district, Amanullah said.

In Layyah, the surroundings of Indus River bank are vacated by the district government as 12 villages submerged in nearer areas around the river Indus.

Two more fatalities in Balochistan

As downpours continue in Balochistan, one man was reported dead after he was swept away by flood water into a river drain near Turbat. Another man was rescued at the same site.

A child was killed in a roof collapse in Langa Street in Dera Murad Jamali.

Deputy Commissioner Jhal Magsi Tariqur Rehman told reporters that after heavy rains in and around Khuzdar the water level had increased in Mula River and flood water had entered Ghandawa Town.

Published in The Express Tribune, August 6th, 2013.
COMMENTS (1)
Comments are moderated and generally will be posted if they are on-topic and not abusive.
For more information, please see our Comments FAQ