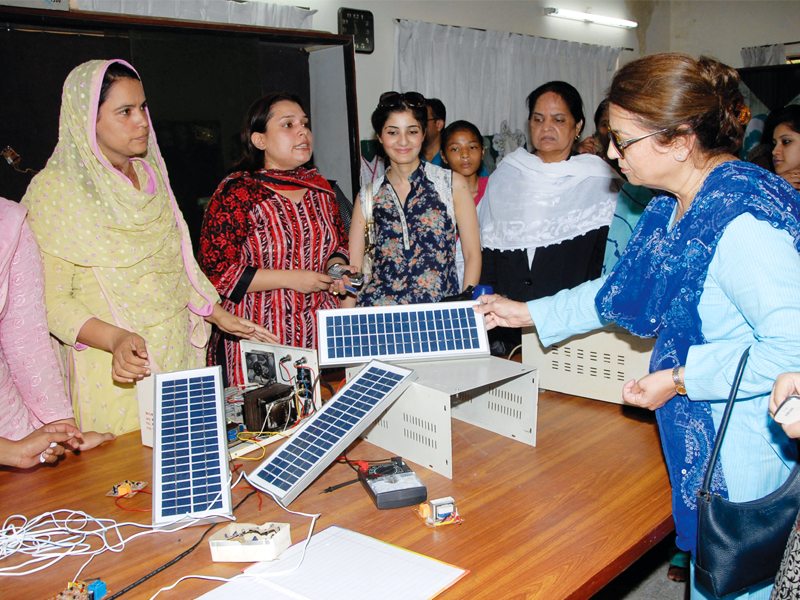 ---
LAHORE:



All Pakistan Women Association Punjab Chairperson Roohi Syed on Monday opened an exhibition of solar panels and architectural models made by women.




Talking to The Express Tribune, Syed said the APWA had started a new training programme to impart technical skills to women. She urged the government to sponsor the initiative.

Fatima Aftab, head of the Skill Development Programme, said, "We started the programme to train women in arts and craft, fashion design and architectural models. We also trained them to work on UPS and solar panels."

She said, "These women can earn Rs15,000 to Rs20,000 a month by making solar panels or UPS' which cost Rs4,000 to make."

APWA consultant Abeer Hassan Naqvi said, "This is a unique concept. In the past, women were usually trained in the arts and crafts and fashion. This is an innovative concept, training women in the field of electronics, especially in an underdeveloped country like Pakistan."




APWA Programme Director Durr-i-Shahwar said, "In the first phase, called Creative Hub, we taught women to develop UPS' and solar panels for the first time in Pakistan. In the second phase, we are planning to help them reach out to organizations that can use their skills and provide them employment."

The exhibition displayed solar panels, UPS, silk paintings, clay paintings, post cards, embroidery and clay utensils.

Alvina Fatima, a contributor at the exhibition said, "I learned how to make jewellery and art pieces using clay and water. My work consists of utensils made of clay, posters and cards using paper, pearls and ribbons."

Published in The Express Tribune, August 6th, 2013.