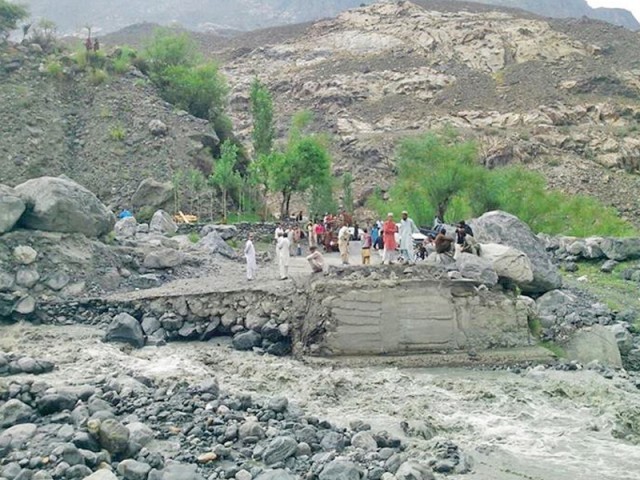 ---
GILGIT:



Flash floods swept away a bridge and parts of roads in Gilgit-Baltistan's (G-B) Ghizer valley early Monday morning, suspending traffic between Chitral and G-B.




The bridge connecting Gilgit with Ghizer was wiped out by an overflowing ravine at Hayam, about 100 kilometres from Gilgit. "The bridge is no more after the floods," said Qasim Shah, a resident of Ghizer.

Similarly, the swelling Gilgit River inundated stretches of roads in Sosat area, cutting off Phandar valley from the rest of the dale. Floodwater also swept away parts of the road linking Gupis valley with the rest of Ghizer.




According to Masood, a resident of Chilas town, landslides and floods triggered by monsoon rains on Sunday washed away four small bridges and several trees.

Karakoram Highway

The government of G-B on Monday denied it has any plans to close Karakoram Highway (KKH) before Eid. "Traffic will pass through the highway as usual and there is no plan under discussion to stop it for any reasons," G-B Home Secretary Ataur Rahman said.

Rahman's comments came after a section of the media quoted anonymous sources saying KKH would remain closed from Wednesday onwards due to threats of terrorism. "This is baseless and misleading," said Rahman. Following the blockage of Babusar Road, KKH is the only land route connecting G-B with the rest of the country.

Published in The Express Tribune, August 6th, 2013.