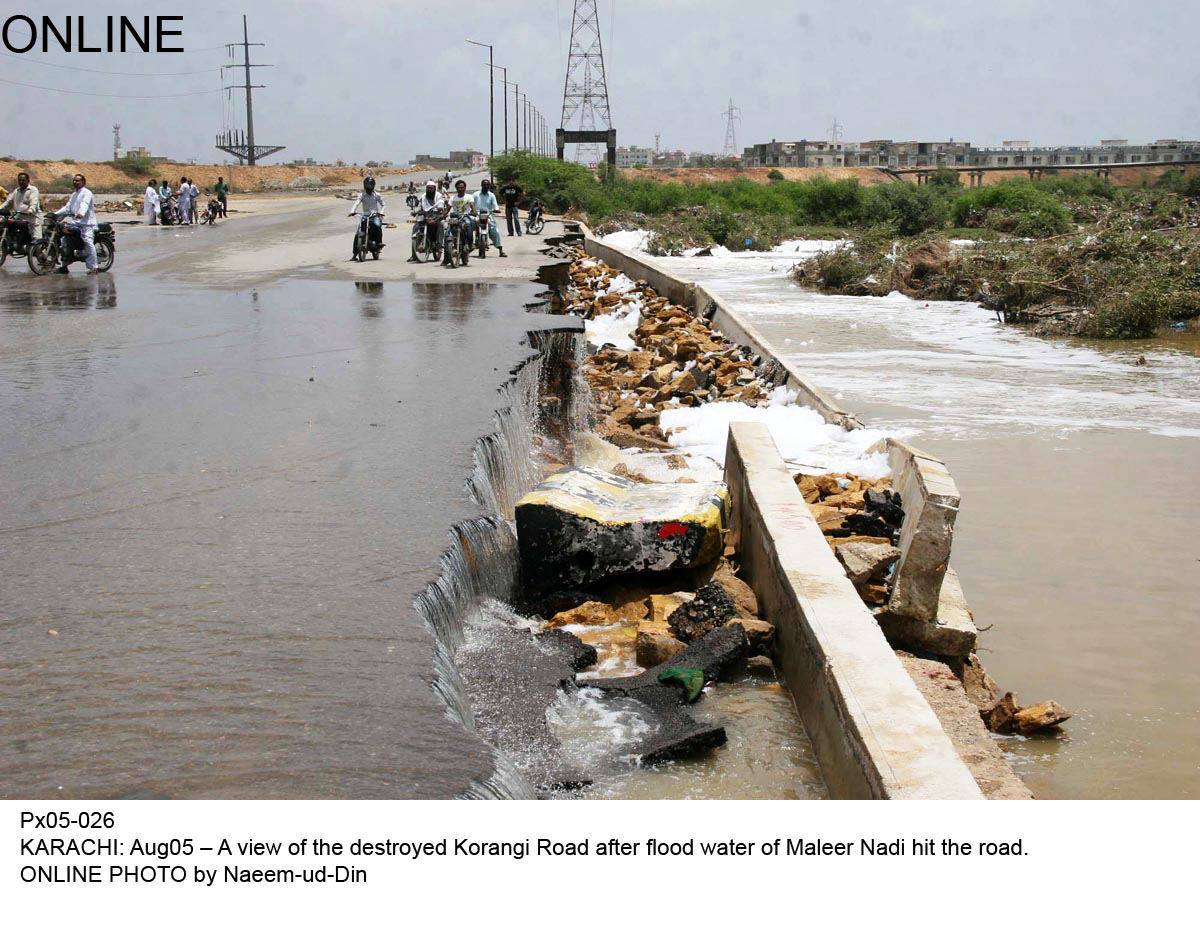 ---
KARACHI: If you are asking why the torrential rains on August 3 in Karachi led to a complete breakdown in normal urban life, all you need to do is look around you.

By now most people will agree and know from the experience of previous monsoons, that our roads are poorly designed and managed as is our sewage and storm drain networks. This is why no one could use Karachi's roads as the drains overflowed. Hundreds of stranded vehicles further restricted road use.

These are just a few reasons why, in just 20 hours, 14 people drowned, were electrocuted or died when structures caved in. This exposes the grave shortcomings in the planning, development and management of this megalopolis which is home to over eight percent of the national population.

Mega-project and commercialisation

Sohrab Goth amply demonstrates the failure of the mega project approach. The city authorities may have partially tackled traffic problems by building roads and flyovers but they did so at the cost of the storm drain and sewage network. The road and flyover contractors only did the work they were assigned - building retaining walls and road paraphernalia! No heed was paid to the spill and gush of rain water that not only gathers locally but also collects across the flyover itself. This is why Rashid Minhas Road, Shahrah-e-Pakistan and adjoining lanes were inundated within a few hours of the rains.




The problem is that the market mechanism is now a key stake in decision-making. The CDGK's new commercialization policy and byelaws in January 2004 are a glaring example. More than 27 major corridors were commercialised. The decision obviously came from the City Council, but it was actually a victory for the all-powerful lobby of real estate builders who have been vying for this for a long time.

Departmental sources revealed that subsequently the only studies or base work undertaken towards this end were the working on the distribution of commercial gains and revenue sharing. The intensity of the load on infrastructure, such as water supply, electricity, sanitation, drainage transportation and parking space, was not taken into consideration. It was criminally assumed that by earning revenue in cash, the vices of development would be dealt away with. Spot commercialization is already taking place in various areas.

According to an empirical calculation, it was found that developers shall be able to maximize the profits to an exorbitant scale of 225 percent.

Absence of bulk drainage

Prime corridors, including II Chundrigar Road, Shahrah-e-Faisal, Shaheed-e-Millat Road, Karsaz Road, Maulvi Tamizuddin Khan Road and Shahrah-e-Pakistan all turned into pools which vehicles could not cross. It is not that these streets do not have storm drains. Even before Partition, some of the sideways of these streets were laid with appropriately large ones. The hierarchy continued to the secondary and tertiary level streets and by-lanes.




The city is also blessed with more than a dozen natural drains or nullahs which used to drain the rainwater to the sea. A reasonable environmental balance was created from the rational separation of sewerage and rain water.

As the city expanded, however, mostly in a haywire manner, the storm water drains were turned into sewerage trunks. Even planned neighbourhoods developed primary sewerage conduits ejecting into storm drains.

Then, land grabbers and builders have recklessly built on top of nullahs and shrunk their width by reclaiming their banks. Multi-storey buildings have been illegally built on top of nullahs, making it often impossible to maintain them.

The solution

An independent planning agency is urgently needed. Such an agency would lay down guidelines for urban management and ensure social justice in space allocation and use patterns.

A planning agency would coordinate with stakeholders on a neutral ground. The voices, concerns and aspirations of people of all kinds, including interest groups, would be taken into account.

This idea is not new. It has been recommended in planning exercises undertaken for Karachi so far. It now needs serious thought and implementation. Otherwise, Karachi will continue to be held back and suffer in the times to come. 

Professor Noman Ahmed is the chairman of the department of Architecture and Planning, at the NED University of Engineering and Technology, has a PhD in Civil and Building Engineering and is the author of 'Water Supply in Karachi: Issues and Prospects'

Published in The Express Tribune, August 6th, 2013.