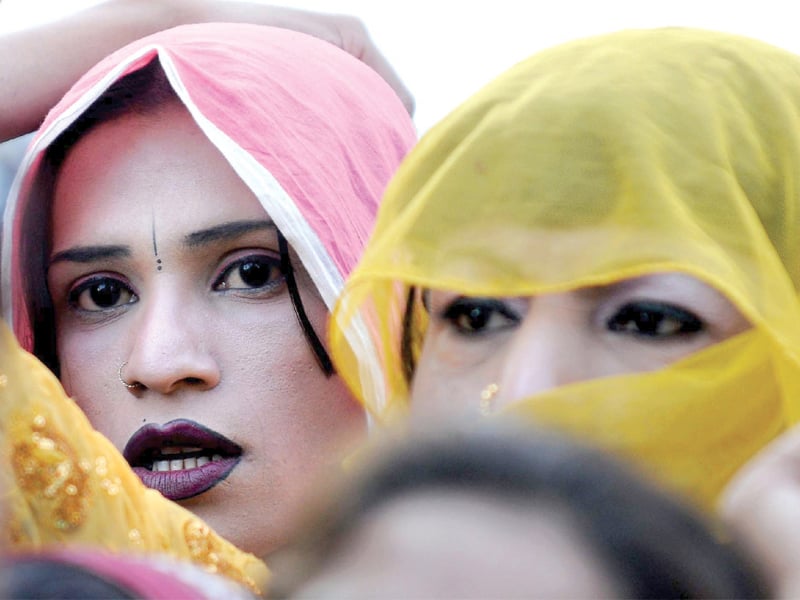 ---
PESHAWAR:



Labeled the 'root of all evils' and driven out of their booking offices by the residents of Changarabad, Gulbahar, eunuchs of the area have been stripped of their livelihood.




Locals expelled all the eunuchs from the locality and forced them to shut down nearly 40 of their booking offices following the motorcycle blast in Imamia Colony on May 28 which killed two people and injured 17 others.

"These eunuchs are the root of all evils in the area as they have hundreds of visitors who come and go unchecked, which is why terrorists were able to park an explosive-laden motorcycle that went unnoticed," said Imran Ali, a resident.




The general secretary of Khawaja Sara Association Peshawar, Zeba said Changarabad was mainly used as a booking office where people would come hire them for performing at weddings as dancers. Zeba said it is considered the centre of the community, adding "anyone who wanted to hire us knew about it."

"Changaryan or nomadic people are the disk jockeys (DJs) and we are the dancers. This has allowed us to co-exist. We set up the offices several decades ago in the area where people would come and book us to perform at weddings," said Zeba.

"Neither the DJs nor the eunuch community can survive without each other, but our offices were sealed despite this and we were expelled from the area. Local DJs are also without any business," said the community's representative.

Zeba said they even paid higher rent for property. "We pay Rs20,000 for a three marla house in an area where others would not even pay Rs3,000," added Zeba.

Pay as you please

There are an estimated 2,000 eunuchs in Peshawar and they perform in many wedding ceremonies in the city. "We charge Rs2,500 for the night within the district and this includes the DJ and two dancers," Zeba informed, adding the entire amount is goes to the DJ. "We take home the money people throw while we are dancing, which is known as 'maidan' money, and we earn about Rs5,000 to Rs6,000 per programme."

Another eunuch also lamented the loss of income. "For the past two months, we have been out of work and our main hub of activity has been shut down by angry residents," said Shakeela.

'Zero tolerance'

Zeba claimed Pukhtuns have zero tolerance for eunuchs, even though "their marriages are incomplete without eunuchs performing at them." Zeba said they cannot set up an office in any other part of the city because of the attitude of Pukhtun people. "They call us hijjra or khusra."

In recent years, the tradition of dancing girls has also flourished in the province. But eunuchs remain in high demand because they charge less and are willing to travel to far away areas. Eunuchs usually live under the leadership and guidance of a 'guru.'

Published in The Express Tribune, August 6th, 2013.
COMMENTS (1)
Comments are moderated and generally will be posted if they are on-topic and not abusive.
For more information, please see our Comments FAQ