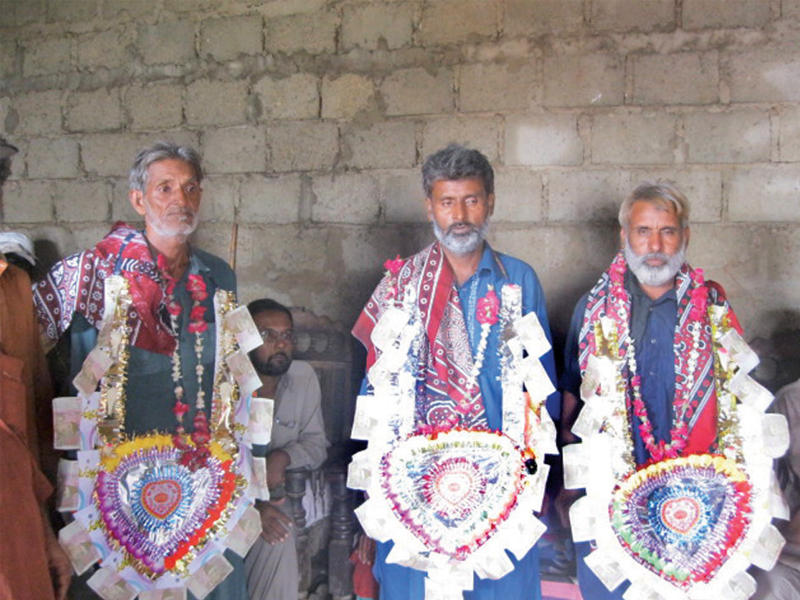 ---
KARACHI:



Three out of five fishermen, who had gone missing after the cyclone of May 1999 hit Thatta and Badin coastal areas, returned home unexpectedly late Saturday night. The fishermen who had earlier been released from Indian jails include Meenh Wasayo and two brothers, Siddiq and Achar.




Pakistan Fisherfolk Forum (PFF) spokesperson Sami Memon said that the three fishermen were among 22 Pakistani citizens, who were handed over to the authorities on July 30, 2013 at Wagah Border. These three were declared as common citizens despite being fishermen. The Fishermen Cooperative Society was unable to recognise them either.

The three were allowed to go home, after Pakistani authorities carried out thorough investigation upon their release. News of their release spread quickly as friends and relatives thronged their houses to greet them. The fishermen who reside in the Ibrahim Hydri coastal locality of Karachi had spent 15 years in Indian prisons.

The two friends of these fishermen, Hussain Walri and Hanif Murghar, are still in Indian captivity despite having completed their prison sentence. They were fined Rs100,000 each by Indian courts, which the poor fishermen could not afford to submit.




PFF chairperson Mohammed Ali Shah also visited the home of released fishermen. PFF has played a key role in their freedom.

Shah criticised the apathetic attitude of the government authorities towards fishermen's plight. He said that the government did not inform the parents or the PFF about the prisoners' release which is why no arrangements could be made to meet the fishermen at Wagah.

Achar has a daughter who got married during his absence. At the time of his arrest, the daughter was only 6 months old. It has been a long absence during which the family found it hard to survive as its sole breadwinner had disappeared.

Meenh Wassayo was a bachelor when caught by the Indian forces after the cyclone pushed his boat across the border. While attempts were made to inquire about their presence, Indian authorities refused to confirm custody.

The five fishermen's contingent was on board the ill-fated boat "Al-Anwer", when the cyclone struck. These fishermen had originally belonged to Shah Bunder in Thatta district but later moved to Ibrahim Hyderi in Karachi.

The fishermen had sent a letter to their family from Ahmedabad Jail after five years of staying incommunicado. Since then, the families had been patiently waiting to see their men released. Upon their arrival, Siddiq and Achar were embraced by their old mother Mai Asi, and sister Mai Sakina, whose husband Hussain Walri is still in an Indian jail.

The PFF chairperson has urged the Pakistani government to resolve the trans-boundary issues with India, especially at Sir Creek, from where fishermen of both countries are regularly arrested and put under confinement for years. He described the issue as humanitarian and called for its immediate resolution. Shah sympathised with the poor fishermen, who venture out to the open seas for the sole purpose of earning their livelihood.

Published in The Express Tribune, August 5th, 2013.