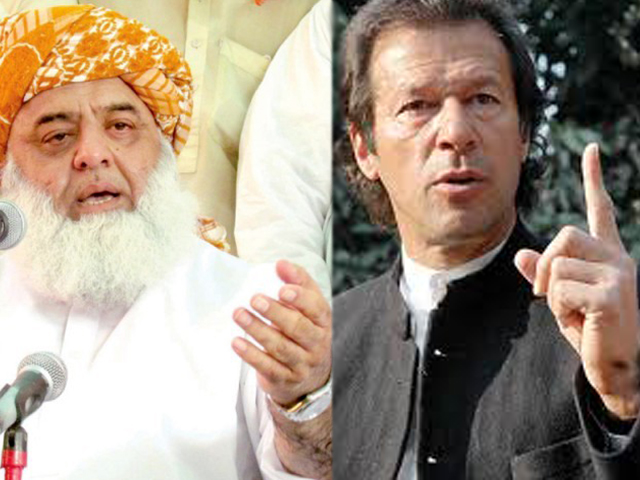 ---
ISLAMABAD:



Chiefs of two major political parties on Sunday appeared headed for a court showdown over attacks on each other's persona and credentials.




Pakistan Tehreek-e-Insaf (PTI) chief Imran Khan said he will sue Jamiat Ulema-e-Islam-Fazl (JUI-F) chief Fazlur Rehman for calling him a "Jewish agent."

"I will take Maulana [Fazlur Rehman] to court. He accused me of being a Jewish agent," said Imran at a press conference on Sunday.

To a question, Imran reiterated that he will not submit his apology to the apex court in contempt of court case.




Party sources told The Express Tribune that PTI senior vice president Hamid Khan, who is also representing Imran Khan in the contempt of court case in the Supreme Court, will prepare his case against Fazl.

JUI-F response

Soon after Imran's announcement to sue Fazl, the JUI-F leaders said they will expose Imran Khan's links with the Jewish lobby at all cost.

"We stand by what we have said that Imran Khan has links with the Jewish network that supports Israeli occupation of Palestinian land," said JUI-F spokesperson Jan Achakzai.

"We're ready for any debate with the second-tier leadership of PTI on any issue to present proof that Imran has Jewish links," he stressed.

At loggerheads

The two party leaders have been at loggerheads since the time of the elections with both of them attempting to undermine each other's credibility in their public addresses to the people particularly in Khyber-Pakhtunkhwa (K-P).

JUI-F chief, in the lead-up to the May 11 elections, had repeatedly declared it 'haram' to vote for PTI candidates. Fazl called Imran an agent of "Americans, Jews, Ahmadis and a person of bad character."

Similarly, Imran in a number of his political rallies in K-P had said, "People like Fazlur Rehman should stop selling religion to get votes," while warning him to "prepare for a political death."

Terrifying power tariff

Meanwhile at the press conference Imran said his party will protest against the proposed raise in power tariff. "It [hike in power tariff] will bring disaster upon the poor," Imran observed.

He also urged the government to maintain rupee value against the dollar. The government should bring three million tax dodgers into the tax net instead of increasing power and fuel rates, he said.

White paper on ballot stuffing

The PTI chief announced that his party will publish a white paper on alleged rigging in the May 11 elections. "The 2013 general elections were worst rigged in Pakistan's history," he said.

The PTI chief said the Khyber-Pakhtunkhwa government is introducing new legislation for good governance. The government will legislate some three bills—the right to information, accountability and local government bill.

Published in The Express Tribune, August 5th, 2013.
COMMENTS
Comments are moderated and generally will be posted if they are on-topic and not abusive.
For more information, please see our Comments FAQ