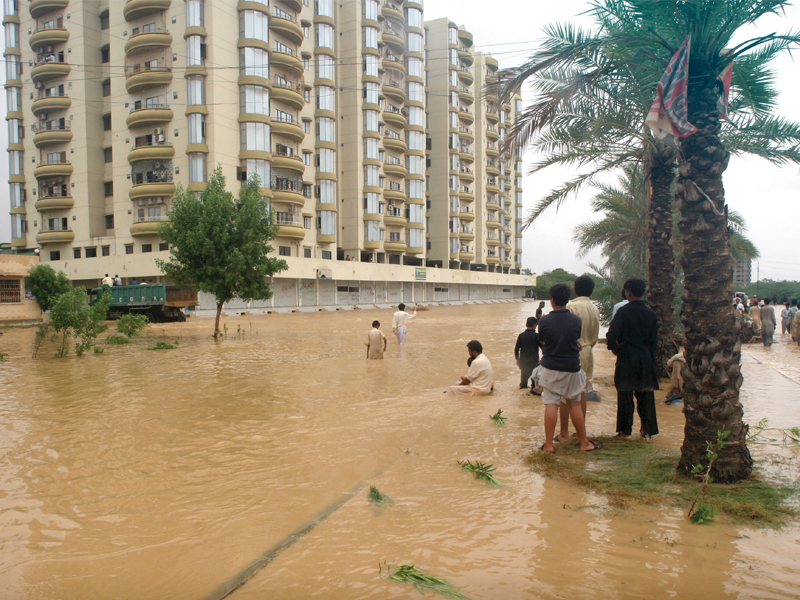 ---


As Hyderabad received up to 95 millimetres of rain between Saturday and Sunday, most of the localities in the three urban talukas - City, Latifabad and Qasimabad- were seen submerged. The efforts to drain the flood water, however, were undermined by the tug of war between the Muttahida Qaumi Movement, district administration and workers of the civic agencies.




On the orders of the Sindh chief minister, Hyderabad Commissioner Jamal Mustafa Syed has initiated an inquiry into the allegedly intentional choking of a nulla which resulted in the accumulation of rain and sewage in the downtown City. "We have so far dug out some 50 bags from the nulla. The whole Liaquat Colony, Fuleli, Memon Hospital, Cloth Market, Pinjra Pur and other areas were drowned because of that blockage," he said.

On its part, the MQM accused the district administration of failing to perform its duties. "The Sindh government's negligence and lack of funds [for the civic agencies] has aggravated the situation," said former district Nazim Kanwar Naveed Jamil, who is also a member of the party's Rabita committee. He said that the government was making no efforts to help the citizens. "If the government had provided funds to the municipalities and the Water and Sanitation Agency (Wasa), we would not be dealing with this situation."




Meanwhile, the workers of Wasa have announced they would boycott work from today [Monday] in protest against non-payment of their salaries for the last four months. The workers held a meeting with Sindh Fisheries Minister Jam Khan Shoro but the two sides failed to reach an agreement. "From tomorrow [August 5], no worker will work at the water filtration plants or the pumping stations. The provincial government will be responsible for whatever happens as a result," warned Mehran Workers Union leader Aslam Abbassi.

Meanwhile. 24 water pumping machines have been activated round the clock to dispose of the accumulated rainwater in submerged areas of Hyderabad City, Latifabad and Qasimabad, according to Wasa Managing Director Salimuddin.

Damages

A day after the cloudburst left swathes of areas in the lower and central Sindh deluged, efforts were under way to clear the inundated towns, villages and agricultural land. The urban localities in almost all the districts of Hyderabad and Mipurkhas divisions went under ankle to knee-deep water. Dozens of breaches also occurred in the water channels in several districts, leaving villages and agricultural lands flooded.




So far, over a 1,000 people have been shifted to four relief camps in Thatta, which received 95 millimetres of rain in 24 hours, while a hill torrent in Jung Shahi taluka washed away at least 15 villages. According to the Hyderabad Commissioner, tents, food, drinking water and diesel generators have been provided at the camps.

Dozens of villages were reportedly been flooded in Thatta, Matiari, Benazirabad, Badin and Umerkot districts. The flooding was mainly caused by breaches in the distributaries and sub-canals.

At least 20 houses and hundreds acres of land of cotton crop were submerged in Jam Sahab, Benazirabad, because of the water gushing out from a 30-feet breach in a distributary. Another village, Makhdoom Khaliquz Zaman, was flooded by a 40-feet wide breach in a water channel.

A bridge on the Main Nara Valley (MNV) drain, connecting Khairpur Nathan Shah taluka with Dadu district, was partially damaged, putting the commuters at the risk of falling in the saline water channel, currently in high flood. The increasing flow in the MNV drain, which has a capacity of 3,500 cusecs but carried thrice its capacity in 2010 floods, could also cause flooding in Manchar Lake. The lake, located in Jamshoro district near Sehwan, is home to around 15,000 to 20,000 fishermen families. The Jamshoro Deputy Commissioner Nasir Jamal Abro said that the situation was being regularly monitored and so far, flooding was not imminent in the area.




Sindh Chief Minister Qaim Ali Shah has ordered an inquiry into the wide-scale power failure in the districts of Hyderabad division which hampered efforts to drain the rain and sewage.

Sukkur swamped by water 24 hours after rain

Despite tall claims that it has a rain emergency plan in place, the upper Sindh urban services has failed to drain out Sukkur even 24 hours after heavy rains lashed the province. The managing director of North Sindh Urban Services Corporation, Abid Hussaini, had claimed that a contingency plan has been crafted to meet any rain emergency and arrangements have been made before hand to pump out water. Nevertheless, Sukkur roads were submerged in water as the province received its first monsoon rain, which started at around midnight on Friday. At most locations, the sewage water is mixed with rain water, turning it into a hazardous combination for residents. To avoid further floods, the urban services company has, however, suspended water supply to the city altogether. The company's media coordinator, Adeel Shah, explained that water supply was suspended because their pumping station on Bunder Road was submerged in rain water. "Supply will resume to normal as and when water is drained out from the pumping station," he said. Insisting that 90 per cent of the areas have been cleared, Shah added that their job has become difficult since electricity supply was also suspended. The neighbourhoods of New Pind, Old Sukkur, Regent Colony, Numaish Road, Bakhar Chowk, Waspur Muhalla, Jail Road, Bunder Road, Military Road and Bihar Colony are still flooded with rainwater. In some areas, this water has even entered houses. Qasim, another resident, complained how difficult the past two days have been for them since water has entered their homes. "You can find plenty of water on the roads but there is no water in the taps."

Published in The Express Tribune, August 5th, 2013.
COMMENTS
Comments are moderated and generally will be posted if they are on-topic and not abusive.
For more information, please see our Comments FAQ