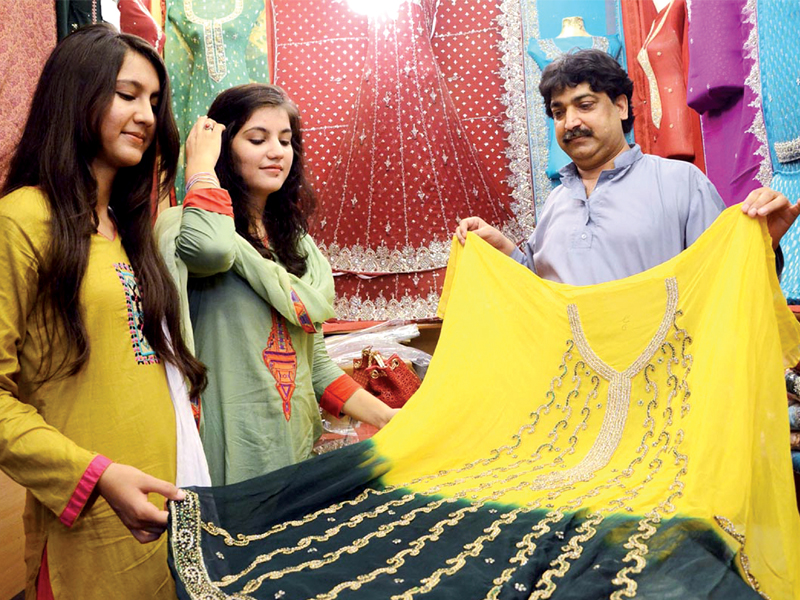 ---
RAWALPINDI/ PESHAWAR: With Eid-ur-Fitr just around the corner, Eid shopping has gained quite some momentum; putting the security officials on high alert to avoid any unpleasant incident in the City.

Peshawar Division Commissioner Sahibzada Muhammad Anis said the city government has chalked out a plan to provide the people during shopping and Eid days with optimum security alongside a proper traffic plan on the eve of Eid-ul-Fitr to ensure interrupted traffic flow.

He further added that additional check posts have been set up at different places in the city and police personnel have been deployed at crowded places.

Some of the roads in the cantonment and inner city areas have been closed for traffic for a specific duration while a few of them have been declared one-way under the new traffic plan.

The commissioner said all arrangements have been made to ensure foolproof security of people at various shopping centres, markets and public places. Women police have also been deployed in various busy shopping malls at Saddar Bazaar and other busy markets to ensure security of female shoppers.

Although inflation has badly affected low-income people; women, children and young girls thronged the markets to buy ready made garments, jewellery, different kinds of cosmetics, bangles, and colourful embroidered dresses.

Nargis, a mother of four, revealed that it is difficult to do the entire shopping and keeping a budget for home in the holy month of Ramazan. "The prices of edible commodities are very high and we cannot have lavish Iftars like we used to in the past in order to save money for Eid shopping," she said.

Shopkeepers have come up with various slogans like buy-one-get-one-free and many of them are also displaying signs boards reading 'sale on all items' to catch attention of the customers.

Like every year, a larger number of makeshift shops have been setup with decorating lights only to attract the customers focussing on clothes, foot wears and other such items for the festival.

Many shoppers told us that due to high prices, they were compelled to stick to limited shopping like one suit, one pair of shoes and a matching set of bangles.

Lubna Khan, a teacher, said, "the prices of the kid's clothes have skyrocketed and we don't know who is bound to keep a check on the shopkeepers."

Eid-ul-Fitr is one of the biggest religious festivals celebrated after Ramazan with zeal and fervour.

Meanwhile in Rawalpindi; the rise in shoppers is resulting in traffic jams in the town's busy markets and intersections, particularly in front of shopping centres in Tench Bhatta, Peoples Colony, Saddar Bazaar,Moti Bazaar, Raja Bazaar, Lalkurti, Rehmanabad and Sadiqabad.

For the traders, it is proving out to be the best time for making money. They are very optimist as the shoppers' presence is increasing day by day till it reaches its peak on chand raat.




The city police here too claim to have made foolproof security arrangements for the protection of the people at markets and public places. Security personnel have deployed in shopping malls at Saddar Bazaar, Raja Bazaar, Moti Bazaar and other busy markets of the city.

According to the security plan, law enforcement officers have also been deployed in civvies at various sensitive areas while close circuit cameras are being used in different busy bazaars and parks.

Published in The Express Tribune, August 5th, 2013.