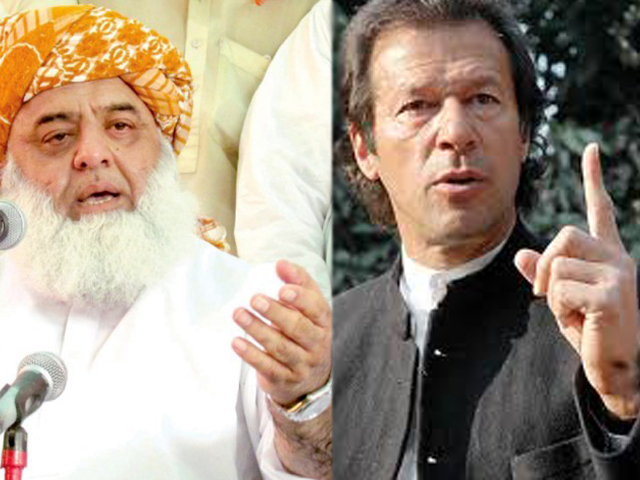 ---
ISLAMABAD: Pakistan Tehreek-e-Insaf (PTI) Chairman Imran Khan said on Sunday that he will take Jamiat Ulema-e-Islam–Fazl (JUI-F) chief Maulana Fazlur Rehman to court.

"He accused me of being a Jewish agent and I will take him to court for it," said Imran during a press conference in Islamabad.

In the lead-up to the May 11 elections Fazlur Rehman had declared it 'haram' to vote in favour of Imran Khan and his candidates. He called Imran an agent of "Americans, Jews, Ahmadis and a person of ill character".

Soon after Khan's announcement to go to the court against Fazlur Rehman, JUI-F leaders claimed that they would establish Imran Khan's links with the Jewish community at all costs.

"We stand by what we have said that he has offshore links with a Jewish network that supports the Israeli occupation of Palestinian land," said JUI-F spokesperson Jan Achakzai.

Earlier during the week, the JUI chief had said that it was a mistake to have let PTI form government in Khyber-Pakhtunkhwa. His remarks had come shortly after the Dera Ismail Khan jail break that saw 248 of the inmates escape after militants attacked the prison late on July29.

On May14, Rehman had called on his supporters to take out street protests against the election results in K-P which he claimed were rigged. He had refused to accept the mandate of PTI, that had emerged as the leading party in the polls.

Earlier on May4, Imran had said in his address to a rally in Swabi that Fazlur Rehman was levying accusations on the PTI Chairman's character because he wanted to "fool the nation".

"People like Rehman should stop selling religion to get votes," Imran had said, while warning him to "prepare for a political death."

The two party leaders had been at loggerheads since the time of the elections with both of them attempting to undermine each other's credibility in their public addresses to the people.
COMMENTS (73)
Comments are moderated and generally will be posted if they are on-topic and not abusive.
For more information, please see our Comments FAQ