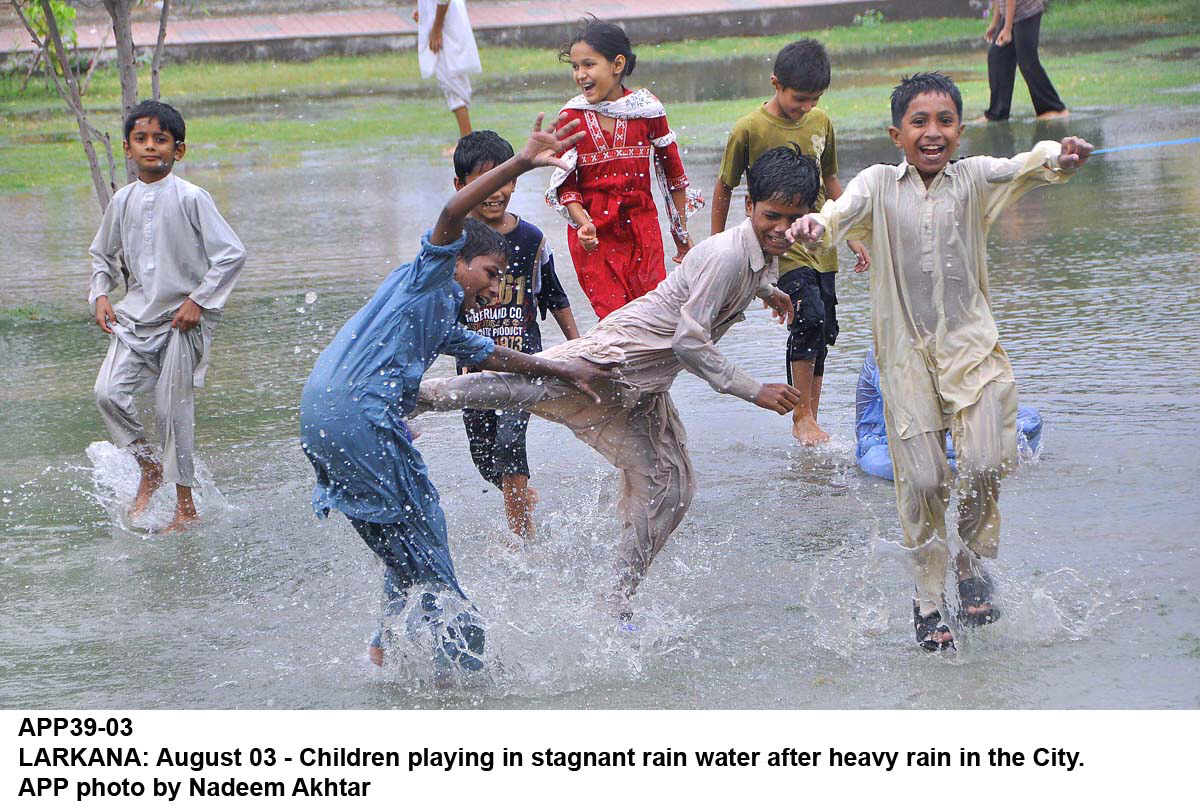 ---
KARACHI:



For many, monsoon rains are nothing but a nuisance which bring power outages and traffic jams but for some Karachi'ites, it's the relief from humidity they've been waiting for all summer long.




Despite flooded roads and uninterrupted power supply, young boys and children came out in the streets and on the roads and splashed around to beat the heat. Those who wanted to avoid the dirty stagnant rain water, rushed to the parks in their area. The elderly people in Defence Housing Authority and Clifton were seen enjoying the weather with their raincoats and umbrellas."We are enjoying the puddles of water," commented the boys playing in Saddar. "There should be no traffic on roads when it rains. Let boys play and let them enjoy fully," suggested Naveed Ahmed.

"Rain was a blessing during our youth and it still can be, if appropriate arrangements are made before it starts. We should enjoy it because rain is an escape from tension and gives people hope."




Busy at Sea View

"No need to stay at home. It is such romantic weather and we [Karachi'ites] rarely receive such heavy rain," said Ameer Bux, who was of the opinion that Sea View was the best place to enjoy with his friends. "Staying at home is a disloyalty to rain. It is a poetic weather and we should enjoy it with zeal and fervour. We should come out when it rains as we have enough reasons, such as strikes and days of mournings, to stay indoors all year round."

According to Koonj Rajput, a resident of DHA, the rain was a 'welcome distraction' at least diverted attention from prevailing law and order situation in the city," commented Koonj Rajput from DHA. "It is such pleasant weather - heavy rain and lightning gave Karachi a perfect rainy day after a long time," she added. "We could enjoy more, if we had a good drainage system across the city."

In poet Masroor Pirzada's opinion, a poet doesn't think of the financial losses and gains in rain but he thinks how to meet the beloved in the monsoon.

"The loss is to be away from mehboob [beloved] and the gain is to enjoy every drop of the rain."

According to the metrological office, 55.2 millimetre rain was recorded near Jinnah Airport, 68mm in Gulshan-e-Hadeed, 60 in Nazimabad, 62 in PAF Masroor, 48 in PAF Faisal, 58.3 in Landhi, and 126.2 in North Karachi. The met officials were unable to collect data from other areas, including Saddar, Clifton and DHA. The met officials told The Express Tribune that lightning, thunderstorm will continue today [Sunday].

Published in The Express Tribune, August 4th, 2013.

Correction: In an earlier version of the article, the word "lightning" was misspelled as "lightening". The error is regretted.
COMMENTS (4)
Comments are moderated and generally will be posted if they are on-topic and not abusive.
For more information, please see our Comments FAQ