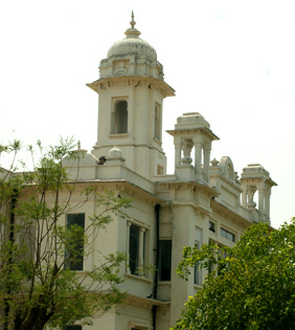 ---
LAHORE:



Senior faculty members at the Lahore College for Women University (LCWU) have expressed concern at the expected recruitment of three contractual employees to permanent, senior positions, saying they lack merit.




An LCWU selection board conducted interviews for five posts on Friday: director of administration, director of the Quality Enhancement Cell (QEC), director for faculty development and internationalisation (FDI), head of training and development for FDI, and secretary to the vice chancellor.

Teachers at the university say that advertisements for three of these posts were tailored to suit the credentials of three contractual employees who would have been ineligible otherwise. They said that their interviews on Friday were mere formalities and they had the favour of the vice chancellor.

Ali Rizvi, who is serving as administration director and university advancement director on contract, has been interviewed for the post of administration director; Sajeela Rizvi, working on contract as head of training and development for FDI, has been interviewed to take the position permanently; and Saima Riaz, working on contract at the FDI Directorate, has been interviewed for the post of FDI director. There were no director positions at the LCWU before Vice Chancellor Sabiha Mansoor took charge of the post on July 14, 2011.

At the 45th LCWU Syndicate meeting on May 11, 2012, 11 associate professor positions were re-designated as directors. The Syndicate set an MPhil with 15years of experience or a PhD with 10 years of experience as the minimum qualification criteria for the posts.

At the next Syndicate meeting on November 21, 2012, the criteria for the administration director post were altered.

This, the faculty members, believe was done to accommodate Ali Rizvi.

"Ali Rizvi was appointed director on contractual basis. In the 47th Syndicate meeting on March 22, 2013, his contract was extended for one year," a faculty member said.

"The administration director should be a PhD or MPhil with 10 or 15 years of administrative experience which Rizvi doesn't have. He has an MS degree," she said.

A senior sub-engineer at LCWU has filed a petition in the Lahore High Court (LHC) alleging that Rizvi was hired on contract without approval of the Syndicate or even an interview.

The petitioner said Rizvi should be removed from services and the salary he drew should be returned. The case is still pending with the court.

"Rizvi was hired as advancement director but given additional charge of administration director. This is illegal as no contractual employee can be given an additional charge. It is odd that the eligibility criteria for a post was changed to accommodate a person whose case is still pending in the court," an official familiar with the case said.

"Saima Riaz joined LCWU in October 2011 against a salary of Rs 58,000 per month. In December her salary was increased to Rs 150,000 and she was appointed faculty development director despite being a contractual employee. The eligibility for the post was PhD with 10 years of experience or MPhil with 15 years of experience while Riaz just has a masters degree," a senior faculty member said.

Faculty members said the advertisement for FDI director announced in January this year maintained the same eligibility criteria which was approved by the Syndicate but carried an addition; masters degrees from foreign universities recognised by the HEC would be treated equal to MPhil candidates. Saima Riaz holds a masters degree from the UK.

"Saima Riaz also does not have the required 15-year experience," an official in LCWU administration said.

According to HEC criteria, an assistant professor should have a PhD in the relevant field for appointment if he is a fresh candidate or 18 years of experience if he/she has an MPhil degree.

"Sajeela Rizvi has a masters degree and does not qualify for the post even on contract. She has just one year of teaching experience and that too at a private institution. The post she has been interviewed for requires a teaching experience of at least 10 years," said another faculty member.

Both Sajeela and Ali Rizvi said they were on merit and fulfilled the eligibility criteria. Saima Riaz was not available for comments.

VC Sabiha Mansoor rubbished the allegations. She said, "We have selected very competent people. Punjab Public Service Commission representatives and all honorable members took a unanimous decision. All three candidates fulfill the eligibility criteria and that was why they were interviewed."

Published in The Express Tribune, August 4th, 2013.
COMMENTS
Comments are moderated and generally will be posted if they are on-topic and not abusive.
For more information, please see our Comments FAQ