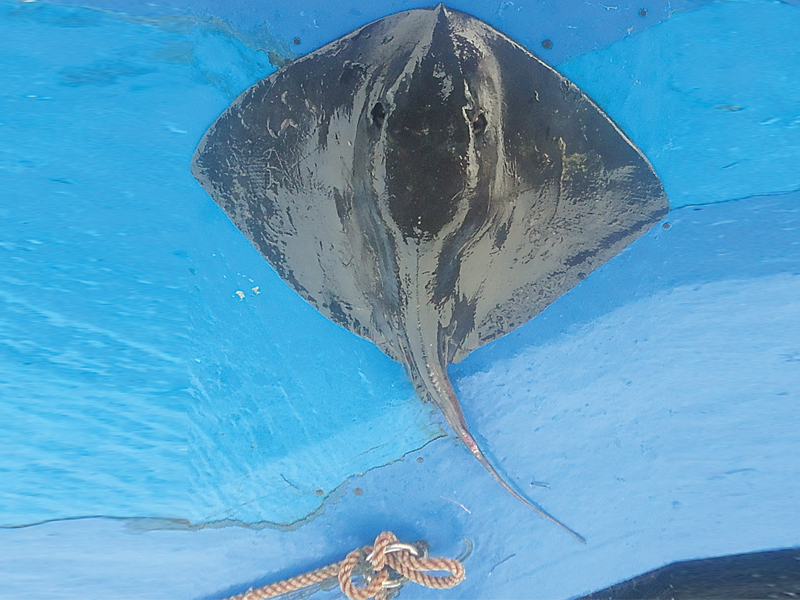 ---
KARACHI: For the first time in Pakistan, a species of the pelagic whiptail stingray that inhabits in the upper layers of the oceans has been collected off the coast of Ormara in Balochistan by scientists from the World Wildlife Fund-Pakistan (WWF-P).

More than 15 species of stingrays are known to exist in Pakistan which inhabit in the coastal waters along the bottom of the sea, feeding on animals living in sand or mud.

The pelagic whiptail stingray, scientifically known as Pteroplatytrygon violacea, has been known to exist in temperate and tropical water of Indian, Atlantic and Pacific oceans. This is the first time it is reported from Pakistan and the northern Arabian Sea. The first specimen was collected on April 9, 2013.

Unlike its relatives, it feeds on jellyfishes, squid, shrimps, crabs and fishes found in the open ocean.




"It is good news that our sea is still alive and life exists in it," said Muhammad Moazzam Khan, the technical adviser of the WWF-P. "It is a new addition to the marine species' list. This just goes to show that we must protect our sea," he added.

Officials of the WWF-P said that a few more specimens were collected in May and June as well.




"It was caught by tuna gillnet fishing boats from offshore waters along Balochistan and Sindh coast. The WWF-P considers its discovery from Pakistan very important," said Rab Nawaz, the director of the WWF-Pakistan. He considered it a major breakthrough as it is an addition to the list of marine fauna from Pakistan's offshore waters.

Little information is available about its biology and population world over. "It is believed that this species is rare in most of the oceans and might be threatened if continued to be caught in tuna gillnetting and longlining," Khan added. He informed that pelagic gillnet is the main fishing gear for catching tuna and billfishes in the northern Arabian Sea that included countries like Pakistan, Iran, Oman, Somalia and Yemen. "The incidence of by-catch are very high in these nets and pelagic stingray is one such species caught in these nets," he said.

Khan said that there was a need to regularise gillnets fishing in the area by adopting better gears, such as longliners.

The WWF-P officials say the discovery of pelagic stingray is an important addition to the biodiversity of Pakistan.

Published in The Express Tribune, August 3rd, 2013.
COMMENTS (2)
Comments are moderated and generally will be posted if they are on-topic and not abusive.
For more information, please see our Comments FAQ