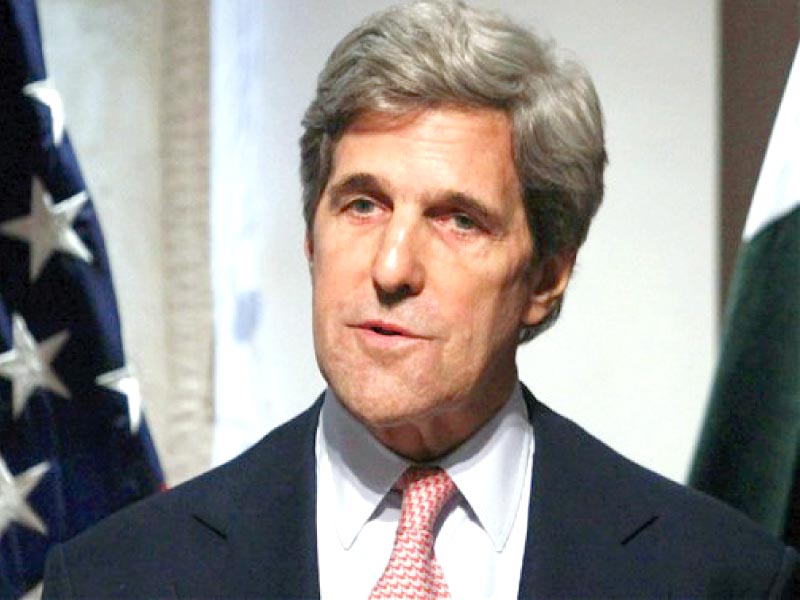 ---
The first meeting between US Secretary of State John Kerry and Prime Minister (PM) Nawaz Sharif appears to have gone well, with both countries agreeing to resume their strategic dialogue. Secretary Kerry arrived in Islamabad on July 31, where he also met the PM's adviser on National Security and Foreign Affairs, Sartaj Aziz. Secretary Kerry is scheduled to meet the army chief and outgoing President Asif Ali Zardari during his trip.




Nothing especially startling emerged during the dialogue. But, of course, the closely followed issue of drone strikes was taken up. The use of unmanned aircraft to hit targets in the country has long been a subject of much angst at home, with the incursions constituting a violation of sovereignty. Secretary Kerry's response to discussions on the issue was not entirely discouraging. He said during a news conference with Mr Aziz that an end was indeed envisaged to drone attacks, that a timeline existed for this and he hoped it would be "very very soon". However, these encouraging remarks, the most positive we have heard from a senior US official, were somewhat dampened by a comment from US officials, with the State Department spokesperson saying in Washington that the recent reduction in drone strikes was linked to a reduction of US troop activities in Afghanistan and to successes against al Qaeda, while no definite time frame existed for action to cease.

From Pakistan's point of view, the most significant comments possibly came from Secretary Kerry himself, who while answering television questions somewhat changed the line he had taken alongside Mr Aziz, and came back on queries about drones with a sharp counter-question of his own, asking if the presence of al Qaeda figures such as Ayman al-Zawahiri on Pakistani soil was not too a breach of sovereignty. Certainly, this is an issue that we need to think quite deeply about and discuss more frequently at home. While the drone issue is certainly a violation of international law and our own territorial sovereignty, it is, in many ways, tied in to our own success in combating the militant threat and doing so without the help of outsiders.

While Secretary Kerry's comments on drones offered hope for the future, even if they were tamped down by his other comments, the rest of the trip seems to have proceeded very well. Mr Aziz, during his discussions with the US secretary of state, is understood to have emphasised Pakistan's need for economic development and access to US markets. Other issues concerning bilateral relations were also brought up. Whether we like it or not, the fact of the matter is that, for now at least, the US is Pakistan's most strategically crucial ally. It has the most investments in the country and influences decision-making in many other spheres too. While we must strive towards a future which allows us greater independence, for now, the fact is that we are tied to Washington; we cannot immediately break away, no matter how much we wish to do so.

For these reasons, Secretary Kerry's visit is very important. The manner in which it has proceeded is also rather good news. The US official has hoped for a new, more stable government under Mian Nawaz Sharif, extended an invitation from President Barack Obama to the new PM to visit the US and said he envisages a growth in working relations on many fronts. It should also be noted that in the run-up to Secretary Kerry's visit, PM Sharif had softened his stance, both on talks with the Taliban and also on the drones, indicating that he may not move in towards negotiations right now. These comments may have helped pave the way for what has been a productive visit, and one that should outline the course for the near future as the Sharif Administration determines the foreign policy issues. The talks with Secretary Kerry give us some idea of what the future is to be on this front as Islamabad's relations with Washington evolve.

Published in The Express Tribune, August 3rd, 2013.

Like Opinion & Editorial on Facebook, follow @ETOpEd on Twitter to receive all updates on all our daily pieces.
COMMENTS (4)
Comments are moderated and generally will be posted if they are on-topic and not abusive.
For more information, please see our Comments FAQ