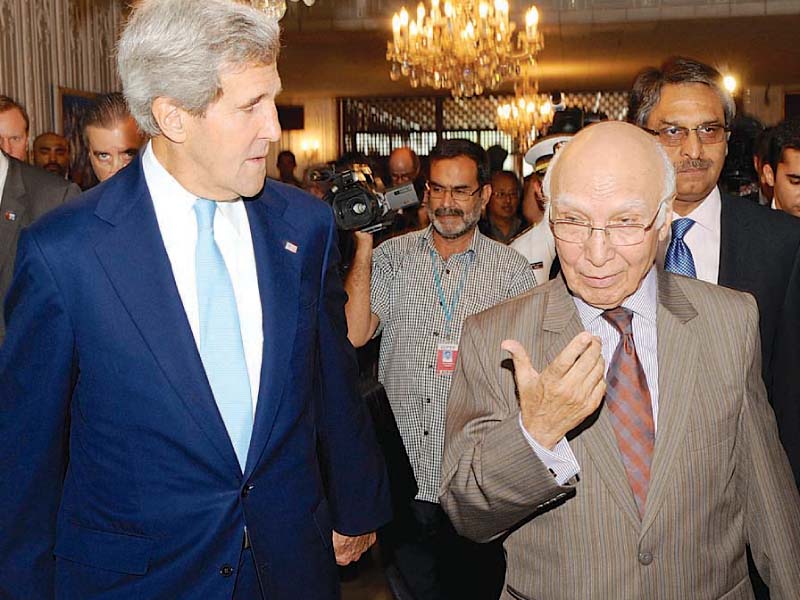 ---
ISLAMABAD:
The decision to restart high-level talks, covering issues from security to economy, was taken after visiting US Secretary of State John Kerry held a series of meetings with the top Pakistani civil and military leadership.

Kerry met Prime Minister Nawaz Sharif and held formal talks with his Adviser on National Security and Foreign Affairs Sartaj Aziz. He separately met army chief Gen Ashfaq Parvez Kayani, Inter Services Intelligence Director General Lt Gen Zaheerul Islam and President Asif Ali Zardari as well.

Speaking to reporters alongside Aziz, Secretary Kerry described his talks as 'positive and constructive' and announced the two countries would resume strategic dialogue.




"I'm pleased to announce that today, very quickly, we were able to agree to a resumption of the strategic dialogue in order to foster a deeper, broader and more comprehensive partnership between our countries," Kerry told reporters here at the Prime Minister's Office.

"The Pakistan-US relationship is not defined by the threats we face and is not just about counter-terrorism," he said, adding that the US was concerned with Pakistan's economic revival.

Kerry confirms timeline for drones

Hopes were raised when Secretary Kerry, in an interview with PTV, suggested that US drone strikes in Pakistan could end 'very soon'. The unusually outspoken remarks were welcomed in Islamabad but immediately downplayed by American aides.

"I think the [drone] programme will end as we have eliminated most of the threat and continue to eliminate it," replied Kerry when asked whether the controversial campaign could end. Pressed on whether a timeline was envisaged, he responded: "Well, I do. And I think the (US) president has a very real timeline and we hope it's going to be very, very soon."

It is the first time such a senior member of the US administration has indicated there could be a definitive end to the programme, which the CIA has in the past called an effective counter-terrorism weapon.

But US officials immediately sought to downplay Kerry's remarks. US State Department spokeswoman Jen Psaki said that the number of drone strikes had declined owing to the drawdown of American troops from Afghanistan and because of progress in curtailing the al Qaeda threat.

"Today the secretary referenced the changes that we expect to take place in that programme over the course of time, but there is no exact timeline to provide," she said in a statement.

Kerry's television remarks also strayed from what he told the news conference with Sartaj Aziz earlier, when he tackled complaints about drones by pointing the finger at al Qaeda leader Ayman al Zawahiri, who is believed by certain quarters to be based in Pakistan.

"An al Qaeda leader like al Zawahiri is violating the sovereignty of this country. And when they attack people in mosques and blow up people in villages and market places they are violating the sovereignty of [Pakistan]," he said, after Aziz repeated the government's stated position that drone strikes violate the country's 'territorial integrity and sovereignty.'

'It is also no secret that along this journey in the last few years we've experienced a few differences,'' Kerry said.

"Pakistan cannot realise its full economic potential until it overcomes extremists," Kerry told the news conference. "The choice for Pakistanis is clear: will the forces of violent extremism be allowed to grow more dominant, eventually overpowering the moderate majority?" Pakistani authorities briefed Kerry on the new proposed counter-terrorism strategy the government is currently formulating.

Replying to a question, Aziz ruled out the possibility of launching any fresh offensive in North Waziristan Agency against the militants. "Our first preference is to hold talks, if that does not work then we can consider other options," he added.

During his talks with Kerry, Nawaz emphasized Pakistan's desire to get access to the American markets to boost economy and assistance in overcoming the energy crisis. Kerry reiterated the US government's stance on Diamer-Bhasha Dam and said his country will facilitate its construction.  He also invited Nawaz to visit Washington for a meeting with President Barack Obama.

'Zardari deserves credit for transition'

During his meeting with President Zardari, Kerry congratulated him on seeing the country through its first democratic transition. "I think President Zardari deserves credit… It is an enormous step forward. It is historic. In the 66 year history of Pakistan that has never happened. So change comes over time," he said.

He also telephoned the newly-elected president Mamnoon Hussain and congratulated him on his victory.

Meeting with Imran Khan

The visiting diplomat also met Pakistan Tehreek-e-Insaf chief Imran Khan. During the meeting, Imran insisted that stopping the drone strikes would motivate militants to give up their fight. He explained that the programme was counterproductive since it both cost civilian lives and fuelled terrorism.

Remarking on the withdrawal of US troops from Afghanistan, Imran asserted that it needed to be carried out in an orderly fashion or else Pakistan will have to face the brunt of the situation left behind, like in the case of Soviet withdrawal.

Published in The Express Tribune, August 2nd, 2013.
COMMENTS (15)
Comments are moderated and generally will be posted if they are on-topic and not abusive.
For more information, please see our Comments FAQ