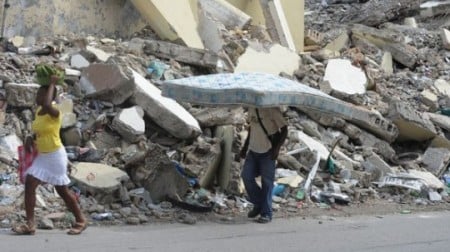 ---
PORT-AU-PRINCE:
In Haiti, heavy rains are creating problems for earthquake  survivors who are living in makeshift camps.
The showers came just a day after an operation was launched  to move earthquake survivors to a safer refuge to avoid the risk of mudslides and flooding. More than a million people were left homeless by the devastating earthquake that wrecked swaths of Port-au-Prince.
Experts say thousands of these survivors are at risk from seasonal rains due in the coming weeks. Authorities on Monday ramped up moves to forcibly evacuate dozens of tent cities across the capital, in a chaotic effort criticized by the UN.
After evicting some 7,300 people at the weekend who had been living on the grounds of the national stadium, the government began the forced removal of a further 10,000 from camps that sprung up in Port-au-Prince after the January 12 quake, which killed more than 220,000 people and left around 1.3 million homeless.
The United Nations has lobbied the government "to see if there wasn't a more humane way to move the people," said France Hurtubise, spokeswoman for the UN Office for the Coordination of Humanitarian Affairs.
Some 900 impromptu camps have been counted across the capital, while officials have warned for months that the coming rainy season could prove to be another emergency situation by worsening unsanitary conditions if no better living situations are provided. "We were told we had a week to leave, and we could go in Tabarre Issa," a UN camp to hold 2,500 people, said Mathieu Thomson, who has been living in a tent near the Saint-Louis de Gonzague college. "But there's nothing there. No toilets, no showers," he told AFP.
The aid group Action Against Hunger has already slammed the government over its forcible evacuation of the Sylvio Cator stadium, with spokeswoman Lucille Grosjean saying the organisation is "shocked at the way it has happened... There is no solution offered to the people" who lived there.
COMMENTS
Comments are moderated and generally will be posted if they are on-topic and not abusive.
For more information, please see our Comments FAQ