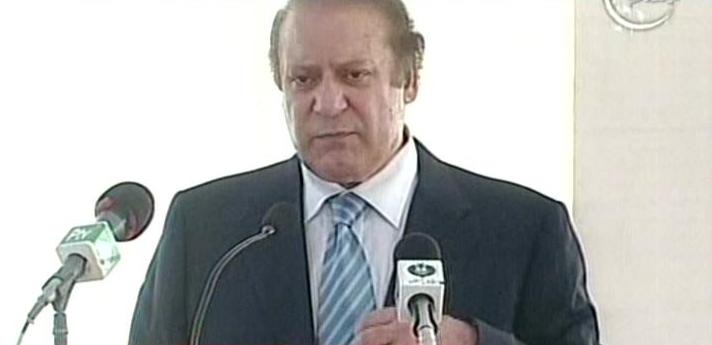 ---
KARACHI: Prime Minister Nawaz Sharif has announced a six-lane motorway to be built from Karachi to Lahore. The announcement was made at a press conference in Karachi.

The prime minister signed MoU's pertaining to the billion dollar project with China on his visit to the neighbouring country last month.

Nawaz Sharif arrived in Karachi for a one-day visit of the metropolis on Thursday, Express News reported on Thursday.

Nawaz Sharif stated that the Gadani power project in Balochistan would be completed soon. He also said that China had also confirmed four projects in Gadani.

The prime minister said that the new government had started working on the new energy policy soon after taking office. The total energy shortfall had come down to 3,000 megawatts.

He said that the government was not to only trying to bridge the gap between supply and demand, but was trying to surpass demand. The country should be thinking about the next 25 years, instead of the next 5 years, he said.

An economic corridor from Gwadar to the Pak-China border has also been planned, he said. The economic corridor plan including road, highway and railway would benefit several provinces including Balochistan, Gilgit-Baltistan and Khyber Pakhtunkhwah.

Prime Minister's visit to Karachi

Prime Minister Nawaz Sharif arrived in Karachi for a one-day visit of the metropolis, Express News reported on Thursday.

The premier - flanked by his party leaders, Sindh Governor Dr Ishratul Ebad Khan and Chief Minister Qaim Ali Shah - visited Muhammad Ali Jinnah's mausoleum.

Nawaz was here to deal with a range of issues including internal party matters and the city's law and order situation.

This was his first tour of the city since taking office in June. The one-day tour was earlier scheduled for July 31.

The recent visit of a PML-N delegation, led by Federal Finance Minister Ishaq Dar, to the MQM headquarters Nine Zero has sparked a debate within the PML-N's provincial leadership.

The PML-N leadership in Sindh had expressed its reservations over a possible alliance of their party with the MQM, sources said.