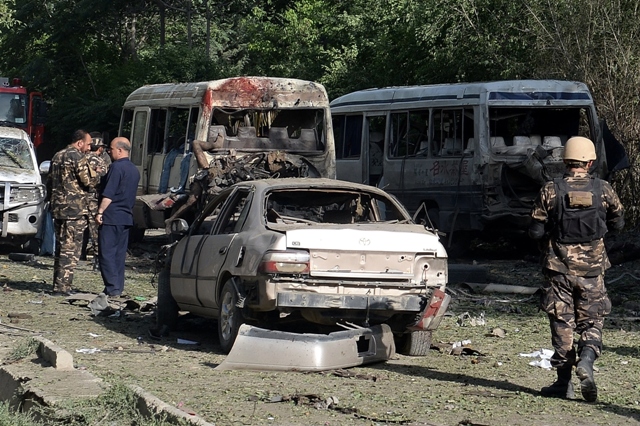 ---
ISLAMABAD:



A latest United Nations report revealed that Afghanistan saw a 23% rise in the number of civilian casualties over the first six months of 2013, majority of them caused by the increased use of improvised explosive devices (IEDs), blamed on the Taliban insurgents.




United Nations Assistance Mission in Afghanistan (UNAMA) says it has documented 1,319 civilian deaths and 2,533 injuries in the first half of 2013, marking an increase of 14% in deaths and 28% in injuries over the same period in 2012.




"This rise reverses the decline observed in 2012 and suggests a return to the trend of 2011 when high numbers of civilian deaths and injuries were documented," according to the latest Mid-Year Report on the Protection of Civilians in Armed Conflict in Afghanistan released on Wednesday.

The UN report attributes 74% of all civil casualties to actions taken by Anti-Government Elements, a rise of 16% over the same period last year 2012. Pro-government forces were found responsible for nine per cent of casualties, 12% of the casualties were unattributed and resulted from ground engagements between pro-government forces and anti-government elements. The remaining five per cent were unattributed, resulting mostly from unexploded ordnance.

Taliban were quick to dismiss the report and the group's spokesman in an angry reaction said the UNAMA prepares its report on the directions and recommendations of the American embassy inside Kabul whose sole aim is to mislead people against Taliban.




"We strongly reject this unfounded report and ask UNAMA that it will not succeed in this process of propaganda," the Taliban spokesman, Zabihullah Mujahid said on Wednesday.

The annual report prepared by UNAMA has been documenting the deaths and injuries of non-combatants since 2007.

Published in The Express Tribune, August 1st, 2013.
COMMENTS
Comments are moderated and generally will be posted if they are on-topic and not abusive.
For more information, please see our Comments FAQ