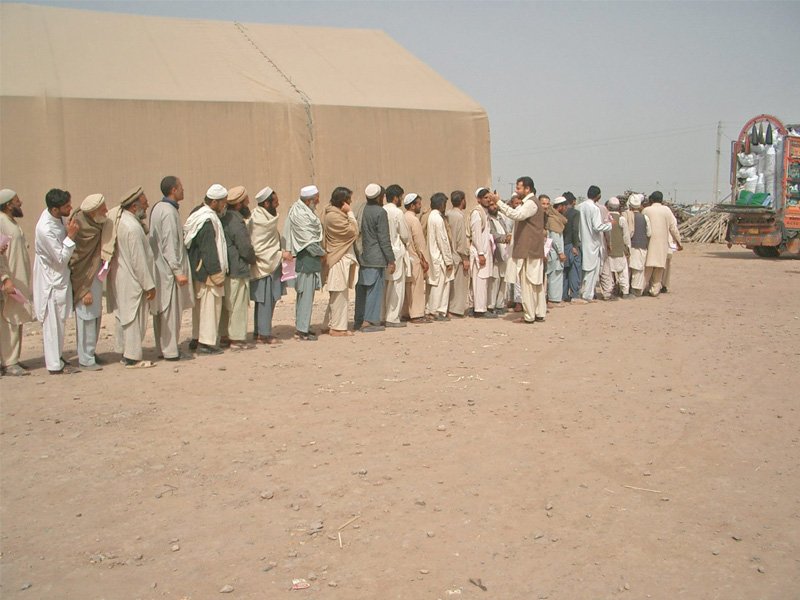 ---
JAMRUD:



Wasil Khan says he would rather stay at Jalozai Camp than go back home to Bara. "I would rather lose my property than put my life at risk."




Jalozai Camp, 35 kilometres southeast of Peshawar, is one of the largest of 150 transit camps in Pakistan which host Afghan refugees from the 1980s Soviet invasion of Afghanistan. At its peak, the camp was home to 70, 000 refugees.

After the fall of the Taliban, the vast majority of refugees in Jalozai camp returned home or relocated elsewhere. In February 2002, with a remaining population of 800, Jalozai camp was formally closed. Now, the camp provides shelter to internally displaced persons (IDPs), who have been forced to move away from their militancy-hit homes.

The majority of these IDPs belong to Khyber Agency, and although the situation in their native lands is slowly gaining a sense of normality, many still refuse to return.




Shah Alam, an IDP, arrived at the camp with his family in 2009. He was a shopkeeper, but now cares for his family at the camp.

"Though we lost our valuables and properties, we survived the militancy in Tirah Valley and Bara tehsil," he said. Alam said houses, schools and other constructions were set on fire during the war on terror in Khyber Agency. Of his three sons, Salim Khan is the eldest and the sole breadwinner for the family. His two younger siblings are attending a school set up in the camp.

Shanee Gul Afridi, the head of a displaced family from Bara, said he had a good life in Kamarkhel village. "I owned several animals, which were my main source of income," he reminisced. "In Jalozai, we live in tents, drink unhygienic water and use improperly constructed lavatories which spread diseases."




According to Sher Ali, the camp holds no future for displaced people. "We had our own fertile lands in Bara and Tirah where we grew crops which were enough for a whole year," he said. "Here we stand in queues for hours and beg others for rations."

Administrative issues

Jalozai Camp in-charge Noor Akbar Khan Afridi said a total of 12,442 families have been registered at the camp, with 359 from Bajaur and the remaining from Khyber Agency. "Seven hundred new IDP families who recently migrated from Tirah Valley could not be registered as the United Nations (UN) refused to give aid on a regular basis," revealed Akbar. He claimed however, the Provincial Disaster Management Authority (PDMA) was distributing food and non-food items. "Due to a lack of resources, these new families will be shifted to Jarma camp in Kohat, some 25 kilometres from Jalozai.

Responding to a question regarding security arrangements inside the camp, Akbar said security personnel were put on high alert after the suicide attack on March 21, 2013 at a ration distribution point. "A deep ditch has been dug around the camp to block militants' access. Police mobiles and check posts have also been established at various points around the camp."

Education: A lack of continuity

The dilapidated conditions of the camp are not lost to children either, especially where education is concerned. Waheedullah Afridi, 12, said he missed his school in Bara Qambarkhel village. "I was a fourth-grade student, but now I rarely get the same education in the camp's schools."

However, Nadia Bibi, a female teacher, said after the attack on March 21, the number of children dropping out of the 22 primary schools located inside the camp increased. "When the children come early in the morning to class, they leave their books in the classrooms and run away in fear of militant attacks," she explained. Bibi predicted if a special motivation campaign was not conducted, the schools would eventually close down.

Camp in-charge Noor Akbar said 18 primary schools, four middle schools and one high school were accommodating hundreds of displaced children, including girls. Akbar added though the number of students attending class fell following the blast, the administration was making a consistent effort to encourage the children to return.

Health standards

With living conditions in an objectionable state, health officials claim they are making a substantial effort to provide IDPs with basic facilities.

A health official of the United Nations High Commission for Refugees, while requesting anonymity, said these efforts were being made despite limited resources. He added at least two or three women were being aided in delivering children daily with the support of mother and child health (MCH) centres and primary health centres (PHC). "A total of 3,000 children were given birth in the camp during the last three years with none being lost during delivery," said the official. MCHs and PHCs were 24-hour services for the IDPs. "Patients in emergencies are referred to hospitals in Pabbi or Peshawar."

Better days ahead?

Meanwhile, Khyber Agency Political Agent Mutahir Zeb said he was hopeful the IDPs would return home soon as the government was taking concrete steps to restore peace in the area.

"I have taken all the elders and influential persons of Khyber Agency into confidence in order to establish lasting peace in the agency," said Zeb. He was hopeful the IDPs would be repatriated within three months. So far, around 800 families have left Jalozai Camp for home.

Although the IDPs did not openly share their security concerns, they expressed the belief the new government would improve the situation in Khyber Agency.

Meanwhile, Shah Alam Khan and his companions remain optimistic about returning home and starting a life anew.

Published in The Express Tribune, July 1st, 2013.
COMMENTS
Comments are moderated and generally will be posted if they are on-topic and not abusive.
For more information, please see our Comments FAQ