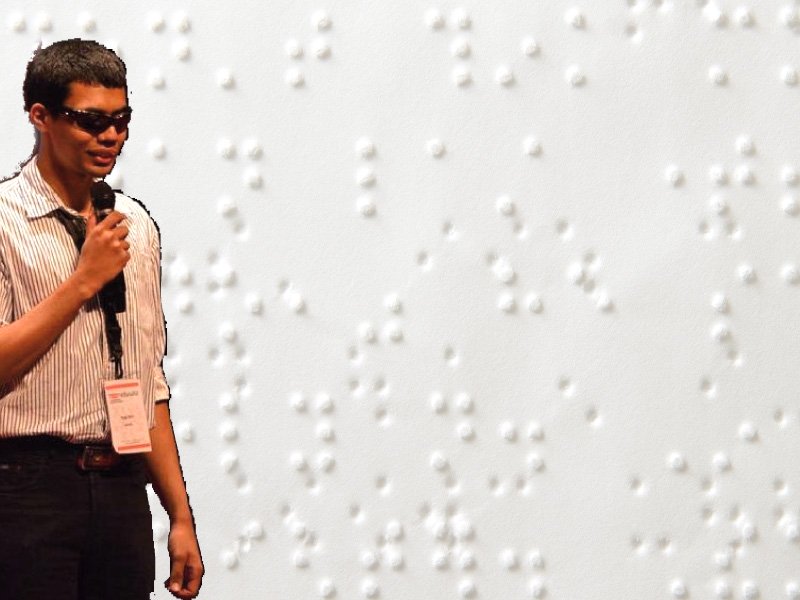 ---
RIYADH:



"I want to help other vision impaired people around the world, especially in the field of science," says Naqi Rizvi quietly. "The scepticism associated with the so-called disabled people is enormous."            




This calm acceptance of his condition, as indicated by his strong demeanour, has not been easy to achieve, especially in environments that cannot appropriately cope with special needs.

And yet, young Naqi has persisted. Today, he stands with an industrial engineering degree in hand, and a bright future looming up ahead.

The making of Naqi

Born and raised in Karachi, Naqi lost his eyesight at the age of seven because of a degenerative disease known as congenital glaucoma.

Although his optic nerves were irrevocably damaged, his parents – a Pakistani father and an Indian mother – did not falter in their support.

Naqi recalls how his mother, Mumtaz Fatima, an MBA from Aligarh University, drove around Karachi for days, in search of the right school for him. The family decided against enrolling him in a school for the vision impaired, in fear that the transition from a normal school to one for the blind would deter Naqi from continuing his streak of excellence in education and sports. From searching for the perfect institutions in Karachi, to garnering moral support and coping techniques from the National Association for the Blind (NAB) in India, Fatima and her husband left no stone unturned to help their son.




Weighty guidance

Fatima's efforts soon paid off. The principal of Springfield Academy in KDA Scheme agreed to enroll him on a six-month trial basis, and even asked his mother to join as a teacher, in hopes that her presence would provide Naqi with much needed moral support.  According to Naqi, the first few days were very tough; he would often get lost in the corridors, and some fellow students made fun of him. However, his teachers provided invaluable support at that crucial juncture, and beyond.

"The help of my teachers, coupled with my optimism, kept me going," he remarks. "I owe a lot to my school for making me who I am today."

With this support system, Naqi fearlessly completed his O' levels in 2007 from Springfield, and was officially recognized as the first visually impaired student to sit for science subjects in Pakistan. Later, he joined the competitive Karachi Grammar School, from where he not only completed his A' levels, but also excelled in baseball, oratory activities, and other extra curricular endeavors.

Difficulties in different lands

Life for the Rizvi's took a turn once again when, in 2008, Naqi's father relocated to the Eastern Province in Saudi Arabia, for professional reasons. A year later, his wife and two kids joined him.

For Naqi, who loves Karachi and the life he had steadfastly built in Pakistan, the change was not easy. The move was made even harder when the prestigious Alfaisal University in Riyadh rescinded Naqi's offer of admission just before the orientation, simply because it did not have the resources to cope with students with special needs.

The family was shocked, yet determined, and his father asked university officials to meet his son before making a final decision.

"I am not going back [home]," Naqi told an official.

With his eloquence and passion, Naqi had no trouble convincing the university management. He also turned the final decision, which hinged upon the Dean, in his favour when a brief discussion turned into an hour-long chat.

After that, there was no looking back. From then to his graduation in June, 2013, Naqi did everything – from boarding a taxi to running his chores – by himself.

"The only hindrance I faced was that I couldn't speak Arabic. Also, I missed home cooked food," he says with a smile.

Today, he aims to do his master's in industrial engineering abroad. St Xavier's College in Bombay and the NAB have been very supportive; they have familiarised Naqi with JAWS, the screen reading programme, taught him the use of a walking stick, and also provided him with German plastic sheets essential to emboss his diagrams with.

Published in The Express Tribune, June 30th, 2013.
COMMENTS (9)
Comments are moderated and generally will be posted if they are on-topic and not abusive.
For more information, please see our Comments FAQ