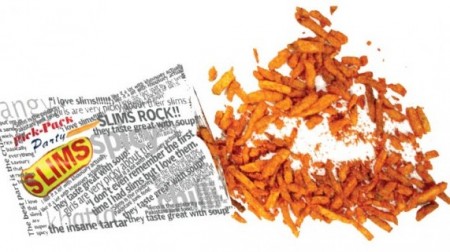 ---
KARACHI: The people at Pringles think they are so clever because once they "pop", they can't "stop".

And the company that makes Lay's insists they're better because they're "baked". But as anyone from Karachi would tell these multinational potato pundits, Party Slims simply rule. Thousands of teenagers will testify that no chip can come close.

Generations of schoolchildren in Karachi have grown up on a steady chutti-time diet of the fiery chilli chips that emerged as a small family business 36 years ago. "My father Ibn-e-Hassan Shad wanted me to start a business like the rest of my brothers," says CEO Musharraf Waris, while talking to The Express Tribune.

According to him, as his father was posted in Faisalabad at the time, he took the Punjabi word 'silly' for chips and turned it into 'Slims'. The logo was designed by his daughter Mehrun Nisa. Today Slims makes up for 25 per cent of Karachi's chips sales, according to Waris. While production varies, they make between 8,000 and 15,000 packets a day and use about 15,000kg of potatoes.

Pick Pack Food Industries started producing Party Slims in 1974.

"We faced a lot of challenges as we were pioneers in the snack food business," explains sales manager S.M. Danish. Slims are made from Pakistani and Afghan potatoes and the company says they do not use artificial preservatives, flavouring or chemicals.

Their jealously guarded secret spice mix "has its roots in the Punjab" according to Waris, who declines to divulge any more details. At their Korangi plant, the spuds are washed, scrubbed and peeled in machines, sliced into their trademark size and then washed and blanched. Next they are dehydrated and then fried at a specific temperature. The chips are drained of oil and then coated in the secret spice and flavour mix before being packed.

Danish maintains that they were able to make it to foreign markets because their production process is so hygienic. "We have been able to gain significant orders from abroad," he says, naming the US, Canada, UK, South Africa and Dubai.

However, more interestingly, Slims was never seen in other parts of Pakistan up until very recently. This was deliberate. "We didn't sell Slims in other parts of the country because we were aware of our target consumers," says Haris. "We have Gujaratis in Karachi. They love chillies. Just like Punjabi's love their payas."

The company discovered, however, that young girls were particularly fond of their product and when they grew up and moved away from Karachi, the demand spread. When the company started out, a packet of chilli chips cost one rupee. Haris recalls how companies never wrote the price of their product on their packaging in those days.

"It used to bother me that young children, who were our target consumers, would have to ask the shopkeeper the price," he says. "So, we started this trend. We were the first company to print the price on the packaging." He also claims that they were the first brand to use matte-finish packaging. Today, Slims are available in packets priced between five rupees and Rs35. "We are successful, I think, because we were smart about the prices," says Haris. "No other company has this range."

In 2000, the family decided to revamp the company sales and export Slims. In the past year, they launched a marketing campaign and brought on board three distributors in Lahore as a first step to distribute Slims across the country. We wonder, will Slims crush the competition or be eaten by it?
COMMENTS (12)
Comments are moderated and generally will be posted if they are on-topic and not abusive.
For more information, please see our Comments FAQ