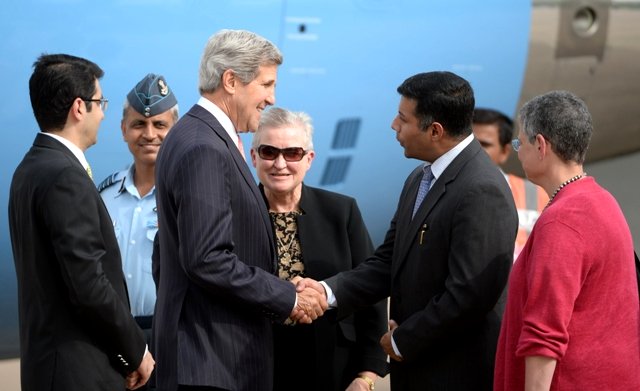 ---
NEW DELHI: US Secretary of State John Kerry called Sunday for a "central role" for India in Afghanistan's 2014 elections as he warned of potential difficulties in the war-torn nation as US forces withdraw.

"The world's largest democracy can play a central role in helping the government of Afghanistan improve its electoral system and create a credible and independent framework for resolving disputes," Kerry said in New Delhi.

Afghanistan is scheduled to hold presidential elections on April 5, 2014 when the incumbent Hamid Karzai is due to stand down.

The country's last presidential elections in 2009 were marred by massive vote-rigging which helped prompt Karzai's rival Abdullah Abdullah to pull out of a second round.

Indian officials are expected to raise concerns with Kerry, who is on a three-day visit there, about the upcoming US withdrawal from Afghanistan.

It is also uneasy about the prospect of negotiations with the Taliban, who are sworn enemies of India.

Kerry said that no agreement would be rushed through and that "a final settlement may be long in coming."

"And let me be clear:  Any political settlement must result in the Taliban breaking ties with al Qaeda, renouncing violence, and accepting the Afghan constitution - including its protections for all Afghans, women and men," said the top US diplomat.

"Afghanistan cannot again become a safe haven for international terrorism."

The subject is likely to feature high on the agenda in talks between Kerry and Indian Prime Minister Manmohan Singh on Monday, with officials in New Delhi saying they are anxious to hear more about the future US plans in Afghanistan.
COMMENTS (15)
Comments are moderated and generally will be posted if they are on-topic and not abusive.
For more information, please see our Comments FAQ