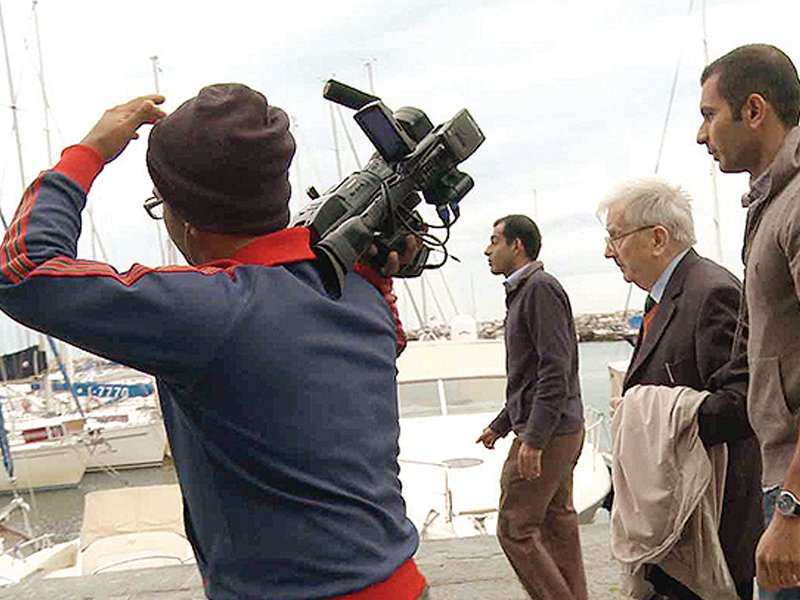 ---
LAHORE:
It was during a casual conversation over a meal that film-makers Zakir Thaver and Omar Vandal came up with the idea of making a documentary on renowned physicist and Pakistan's only Nobel prize winner Mohammad Abdus Salam.
Over a decade ago, in 1996, the year of Salam's death, Science/Education Media Producer Thaver, and PhD from the Cornell Graduate School of Medical Sciences, Vandal, met and discussed the idea.
"Later that year, when Salam passed, we talked about him over a meal… we didn't know enough about him then and the conversation was somewhat superficial — Pakistan's only Nobel Laureate, marginalised by his motherland because he was born to the 'wrong' sect, etc," they said in an email interview.
"After college, the both of us were in New York and revisited the idea. In retrospect, we thought in the post 9/11 climate, by way of challenging emerging stereotypes. Our minds began to query icons from our own culture, as opposed to the usual Einstein poster that almost all science majors have up on their dorm room walls."

Focusing on a more culturally-associated science icon, who to them seemed far more relatable, led the duo to the untold story of Pakistan's most illustrious intellectual. "What struck us immediately on researching Salam was that he was so much more than just a scientist…we had no idea," said Thaver and Vandal. "He was a giant on the world stage of physics and ranked amongst the most influential scientific personalities of the 20th century. Others from Pakistan, we discovered, had even less of an idea. So we felt it was a story that just had to be told." The producers strongly feel that it's extremely tragic that a kid on the streets of our country hardly knows much about the influential scientist and the documentary is, in a way, an attempt to highlight this significant point. "Perhaps a unified or consolidated, significant point is to look at what Pakistan lost out on because of prejudice. Virtually all scientific effort in Pakistan owes its existence to Salam." "Salam was quite a superhuman… so yes, the science and his marginalisation are just two of several themes. Salam was so much more than just a stellar scientist," they added.




With their documentary, Thaver and Vandal aim to foster an appreciation for the scientist, as well as create public awareness of science. But fulfilling the dream has been quite a challenge. "Fundraising has been the biggest challenge. In general, fundraising for documentary films, particularly biographies, is very hard. TC McLuhan, Director of Frontier Gandhi (a documentary on Abdul Ghaffar 'Bacha' Khan), spent over 20 years fundraising and working on her film. We've soldiered on for the past 10 years largely because this is a very important story that needs to be told. It also certainly helps when the subject of your documentary film is also a source of inspiration," claimed the duo.

When asked what was probably the most interesting aspect of fundraising, the film-makers said, "When Salam scored the highest marks in his Marticulation examination, at the age of 14, the entire town showed up to celebrate his accomplishment. When he died, thousands showed up in Jhang and Rabwah to pay their last respects. It is those kinds of people — the kind that showed up to pay their last respects and to celebrate him when he was 14 — who have supported our project." As part of their research, the two of them also visited Salam's primary school in Jhang, an experience that seems to have been quite moving for them. "Visiting Salam's primary school in Jhang was an incredible experience — Salam was clearly an icon who the students (and teachers) looked up to. There was a replica of Salam's Nobel Prize and a portrait in the Principal's office. Why can't this be the case in every school in Pakistan?" asked Thaver.




Surprisingly, the project, which has been funded entirely through individual donations, managed to garner support from all across the globe, including major physics societies from India, the UK, US and many more. Nevertheless, the producers are still far off from their fundraising goal but are hoping to make the desired impact through their film in the coming year.

"We're working very hard to raise enough funds to reach post-production in the final quarter of 2013 and complete it in the next six to eight months," they said.

Considering the topic encompasses the life of a rather global ambassador, it does not come as a shock that a director like Mira Nair showed immense interest. "Mira suggested we do the docufilm guerilla style — 'Start filming with whatever material and funds you have in hand. Film by day, hustle by night,' she said. She, too, was clearly a huge believer in the power of Salam's story and how important it was to document and tell it," shared Vandal.

Published in The Express Tribune, June 21st, 2013.

Like Life & Style on Facebook, follow @ETLifeandStyle on Twitter for the latest in fashion, gossip and entertainment.
COMMENTS (41)
Comments are moderated and generally will be posted if they are on-topic and not abusive.
For more information, please see our Comments FAQ