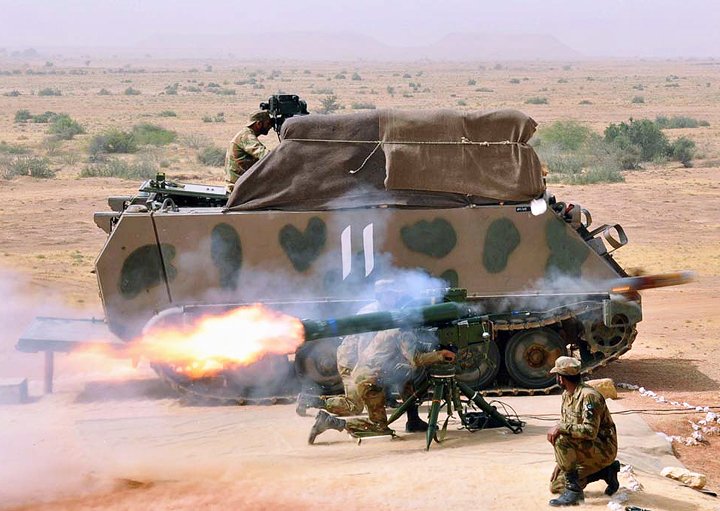 ---
ISLAMABAD: The concluding ceremony of war games named "Azm-e-Nau 4" took place on Sunday.

According to the Inter-Services Public Relations (ISPR), the war games were meant to operationalise new strategies against the evolving threat.

At the culmination of four years of war gaming and exercises, the Pakistan military has now adopted a 'new concept of war fighting' aimed at preempting India's 'Cold Start Doctrine,' security officials said here.

The new concept seeks to improve troops' mobilisation time and to put up a joint Army, Navy and Air Force response to any conventional threat.

The Azm-e-Nau exercises, which started in 2009, were part of the Army's new concept of war fighting in response to India's Pakistan specific Cold Start Doctrine.

The Cold Start doctrine is intended to allow India's conventional forces to perform holding swift and unexpected attacks in a manner before international pressure could come to bear on India and before the Pakistani military could react i.e. in under 72 hours.

The Indian military, however, publicly denies the existence of any such doctrine.

The military official said under the new concept, in case of war, the Pakistan Army could mobilise in far less time as compared to India.

Speaking at the conclusion of two-week long war games, Army Chief General Ashfaq Parvez Kayani sought people's support to counter foreign military aggression against the country.

Kayani said military's success hinges on being fully prepared, support of the people of Pakistan and other state institutions.

He also said the Army was fully committed to meet all future challenges squarely.
COMMENTS (112)
Comments are moderated and generally will be posted if they are on-topic and not abusive.
For more information, please see our Comments FAQ