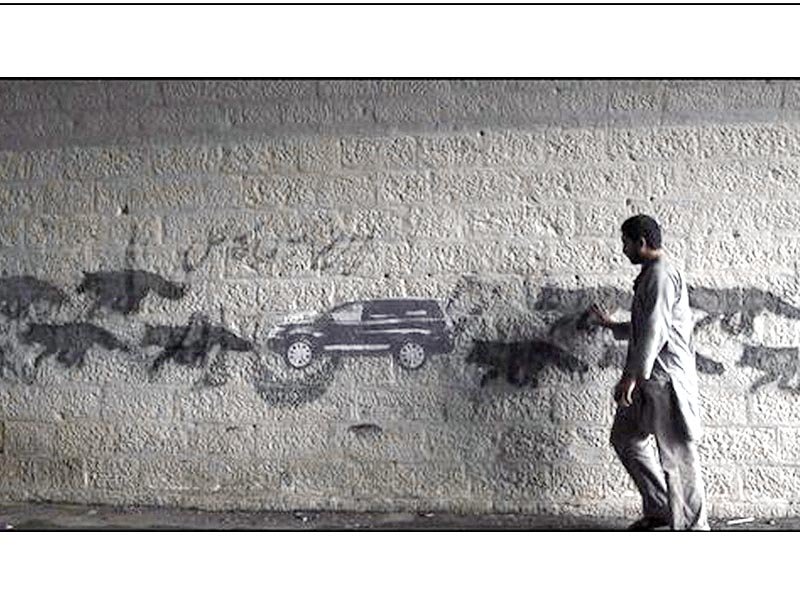 ---
KARACHI: Since Urdu poet Faiz Ahmed Faiz's centenary celebrations in 2011, there has been an overdose of his poetry. His work best relates to Pakistan's current situation and sends messages of hope and patriotism.

Blame it on our love for his classics like Bol Kay Lab Azaad Hain, Hum Dekhaingay and Aaj Bazaar Mae, but this is probably the reason why this maestro's other work seldom made it to the forefront. Kuttay is one such example.

While there is no objection listening to his timeless ghazals, artists using his poetry need to portray a thinker and writer such as  Faiz in a different light by bringing forth his lesser-known works. Recently, local musician Tabish Javed chose to revitalise Faiz's ghazal titled Kuttay, with Nigel Xavier for the audio-visual presentation.

Despite Javed's soothing vocals, with an interesting blues-country take on the arrangement and composition, it is the video that has the potential to trigger some debate. The video, in isolation, is a piece of avant-garde artwork. Hats off to Xavier for a skillfully designed video with smooth editing and crisp cinematography.




Most directors in Pakistan, but not all, tend to ignore the importance of art direction when treating any form of visual medium, whether its music videos or TV dramas. This is a major reason why their projects end up being the same, which makes their execution monotonous. Kuttay is a quintessential example of how hiring a dedicated art director can enhance the quality of your visual art by miles.  Kudos to Aamir Habib, the art director of the video, who showed Pakistan's graffiti culture in a smart way. In the video, Habib uses the topical, significant and, above all, socially relevant wall chalking and paintings to enhance the central theme of the video.

Director of photography, Mo Azmi, who also shot the much-hyped film The Extortionist, captured the polluted and neglected Karachi in a beautiful way. It's a relief to finally see a great video stylishly executed in natural light, making Azmi a great find for the local film-makers.




While the attention given to minute-by-minute details of individual compositions has enhanced the grandeur of every frame, it has, at the same time, killed the overall flow of the narrative. The audio-video doesn't work as a whole.  With a poem like Faiz's Kuttay, it's a sudden shock to the reader and listener, as he comes to realise that the writer is not actually criticising dogs. It is used as a metaphor for the poet's concern of the middle class, which, he says, is as insignificant as stray dogs.

Despite its stylistic brilliance and a catchy melody embellished slide guitars and pop-style singing, there are two central problems with Nigel and Tabish's take on Faiz's ghazal. First of all, Faiz's criticism of the middle class has literally been taken to people who live on the streets and metaphorical parallels have been drawn between them and dogs. On the other hand, there aren't enough surprises in the narrative of the video. There is a sort of climax when the girl, who had discovered the book from the trash, throws it away and the protagonist urinates on the painting that showed him a new horizon — but that's it.




This is not to undermine the capabilities of the musician and the director at all. However, Faiz's Kuttay, which is an extension of his usual criticism of the sleeping middle class and his tilt towards the left side of politics, stands out due to his plain choice of words and metaphors. There is something special about this poem, which is the reason why it has been quoted in major political debates and has also been a part of the Urdu curriculum of our country's secondary education.

Faiz is a cult of personality; his dress sense, and the way he held his cigars, was mimicked and his dire love for the nation, despite all the gloominess, was what gave people hope in the worst of times. With all his prowess, optimism and charisma, there came a time when he compared his people to dogs, which is the big surprise — and the realisation of that surprise was perhaps the message intended.

Kuttay by Faiz Ahmed Faiz 

Ye galiyon kay awaara be-kaar kuttay

Kay baksha gya jin ko zauq-e-gadaai

Zamanay ki phitkaar sarmaya un ka

Jahan bhar ki dhatkaar un ki kamaai

Na araam shab ko, na raahat saweray

Ghalazat mein ghar, naaliyon mein basaairay

Jo bigrain to ik dusray se larra do

Zara aik roti ka tukra dikha do

Ye har aik ki thokar'ain khanay waalay

Ye faaq'on se ukta kay marr janay waaly

Ye mazloom makhlooq gar sir uthaye

To insan sab sir kashi bhool jaye

Ye chahain to duniya ko apna bana lain

Ye aaqa'on ki haddiyan tak chaba lain

Koi in ko ehsas-e-zillat dila de

Koi in ki soi hui dum hila de



Published in The Express Tribune, June 16th, 2013.

Like Life & Style on Facebook, follow @ETLifeandStyle on Twitter for the latest in fashion, gossip and entertainment.
COMMENTS (2)
Comments are moderated and generally will be posted if they are on-topic and not abusive.
For more information, please see our Comments FAQ