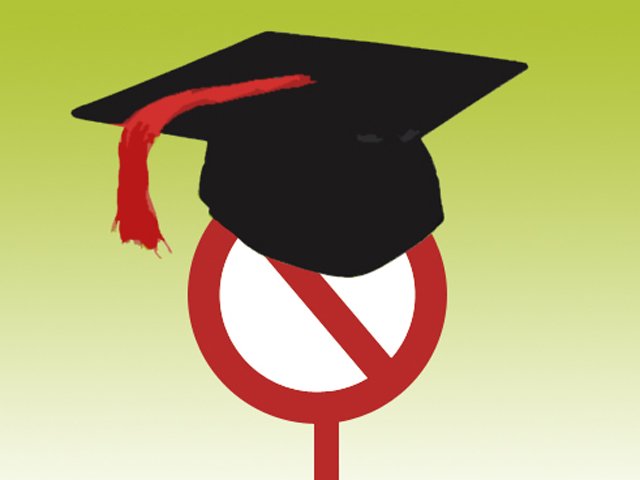 ---
ISLAMABAD:



Though a number of legislators were disqualified for submitting fake educational credentials, 'public servants' who managed to grab lucrative posts on forged degrees have so far evaded scrutiny.




Capital Development Authority (CDA) Chairman Tahir Shahbaz after assuming charge had pledged to verify the degrees of officers in grade-16 and above in light of a directive by the Cabinet Division and remove fake degree holders from the civic agency. However, it seems degree verification is not a priority for the CDA administration. A CDA official who scored the job on the basis of a fake degree has been drawing salary and other privileges equivalent to an officer of grade-18 since 2008. A senior officer claims it was brought to the chairman's knowledge. No action has been taken, so far, because the "fake degree holder enjoys the support of a senior CDA board member."

The officer is Shariq Hafeez Khan, who was appointed in 2008 as Manager Operations for the Arts and Craft Village on the recommendation of a non-governmental organisation, the Indus Heritage Trust, before a court struck down its joint venture with CDA.




Khan had submitted an MBA degree from the University of California, Irvine (UCI) at the time he was hired. A letter issued by the office of the UCI registrar, available with The Express Tribune states, "All four officials' signatures [imprinted on the transcript] are incorrect or forged for that time period." The university administration pointed out six inconsistencies in the degree Khan submitted. The student identification numbers at UCI degrees do not include letters and are eight digits. The registrar's signature is also missing from the degree.

There is no record of a student with the name [Shairq Hafeez Khan] having attended the University of California, Irvine. Furthermore, the diploma and transcript Mr Khan provided were not issued by the university, said UCI Student Services Specialist Winnie Rafael, when he was asked to confirm the authenticity of the degree he had submitted.

When contacted, the CDA chairman expressed astonishment over the issue. "It's a crime. And if it is so, he will not only be terminated from service but also penalised." I will order a high-level inquiry to determine the involvement of officers who facilitated him, he added.

Replying to a question, Khan said the university administration did not keep a record of students who graduated 20 years ago. "Let's assume my degree is fake; it's not mandatory for a director to be an MBA." Though he declined to comment on the inconsistencies, he said, "It's all because I've resisted corrupt CDA officers." Khan stated he was himself a victim of the agency's corrupt system where he had not been regularised despite the fact he was working in CDA for the past five years.

Published in The Express Tribune, June 14th, 2013.
COMMENTS
Comments are moderated and generally will be posted if they are on-topic and not abusive.
For more information, please see our Comments FAQ