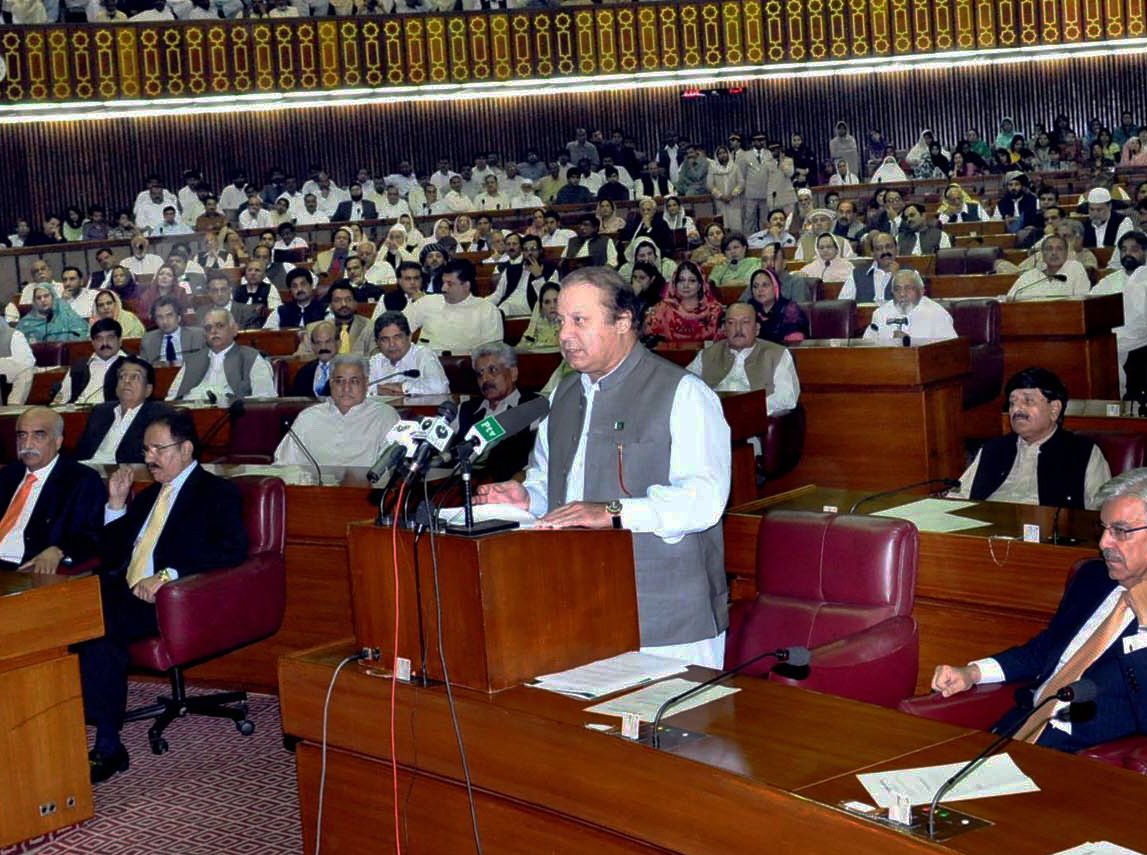 ---
ISLAMABAD:



Partly scripted and partly extempore, Nawaz Sharif's 30-minute speech, his first as the prime minister, touched on everything from crime and corruption to economy and extremism. What it didn't have though, were the groundbreaking announcements or policy declarations that some were expecting.




"I assure you that neither I nor my team will sit idle. I will utilise all my energies for the betterment of the nation," he said, adding that "comprehensive plans to deal with these issues have been prepared". Nawaz also promised that these plans would be implemented soon.

The prime minister opted not to make tall claims or paint a rosy picture but instead took the responsibility of tackling the mammoth challenges that lay ahead. "My government accepts the challenge of addressing all these issues," he said.

"We have chalked out plans to tackle all issues, including load-shedding. I will soon address the nation and disclose those steps," he added. "I foresee a bright Pakistan where minorities will also have their rights completely protected," he said.

Nawaz said that the country was facing myriad problems like increasing debt and government institutions that are on the verge of collapse.

"My government will not tolerate any kind of corruption. The door of nepotism has been shut forever from today and now the heads of state institutions will be selected on merit alone," he added.

He said a procedure will be adopted and advertised by which expatriates with specialised skills will be invited to come and serve the country.

Nawaz said Pakistan belongs to all its citizens and everyone has to play his or her part. "I don't think a single party can address all these issues," he added.

For that purpose, he said he would approach all the heads of political parties for their support. "I will ask them to come and help develop a national agenda to steer the country out of its problems," he added. "We all want peace and prosperity and so we should come and sit together and discuss the steps needed to root out extremism."

At the same time, the premier also called for an end to drone strikes and urged the political leadership of the country to devise a joint strategy in that regard.

He said the attacks have been continuing for years and need to come to an end now. "We respect the sovereignty of others and they should respect our sovereignty and independence. This campaign must come to an end now," he said.

Pointing out that dictatorship had always been destructive, he said that history had shown there was no alternative to democracy for Pakistan. "I am very happy that members of this house have pledged, two days ago, not to support any such [undemocratic] activity," he added.

Nawaz said his party has introduced a new culture of politics. "I am happy that the true leadership of Balochistan has been given the opportunity to govern," he said while adding that his party did not take the government despite having a numerical edge in Balochistan and also respected the PTI's mandate in Khyber-Pakhtunkhwa. "We will not discriminate against provincial governments and will extend all possible cooperation and support to them," he added.

While commenting on the last five years, he said the PML-N served as an 'ideal' opposition despite being accused of being a 'friendly' opposition because it insisted the PPP-led government complete its five-year term.

Addressing the law and order situation in the country, the premier resolved to restore peace in Balochistan. "When there is peace in Balochistan, every person - whether in Punjab or in K-P - will rejoice."

On the situation in Karachi, he said: "We are as concerned as the residents of Karachi are," and assured that he would lend all possible support to the Sindh government for restoring law and order in the city.

While concluding his speech, Nawaz referred to his recent meeting with China's prime minister, and disclosed an agreement between the two countries for a rail track and road link from Kashgar to Gwadar via Khunjrab which would also connect to Karachi.

Shairf also appreciated the outgoing government for handing over the Gwadar port to China and said, "I want Gwadar to be a free port having a special status."


Published in The Express Tribune, June 6th, 2013.
COMMENTS (10)
Comments are moderated and generally will be posted if they are on-topic and not abusive.
For more information, please see our Comments FAQ