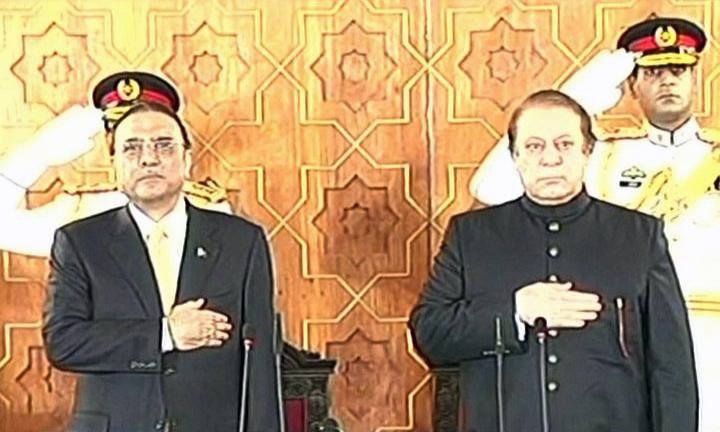 ---
ISLAMABAD: Pakistan Muslim League-Nawaz (PML-N) chief Nawaz Sharif became the first politician in the country's parliamentary history to make it to the office of prime minister for a third time, reported Express News on Wednesday.

Nawaz Sharif beat his competition by receiving a total of 244 votes, whereas Makhdoom Javed Hashmi received 31 votes and Makdhoom Amin Fahim recieved a total of 42 votes.

After formally chosen by a vote in the National Assembly, Sharif took his oath under President Asif Ali Zardari.

Nawaz was up against two candidates: Makhdoom Javed Hashmi of Pakistan Tehreek-e-Insaf (PTI) and Makhdoom Amin Fahim of Pakistan Peoples Party-Parliamentarians (PPPP).

The National Assembly is occupied by around 190 first time MNAs and witnessed the return of some veteran politician including former railways minister Sheikh Rasheed Ahmed and former premier Mir Zafarullah Jamali.

PML-N holds a simple majority in the 342-member National Assembly.

With a simple majority, the Pakistan Muslim League-Nawaz will take on the helm of affairs at a time when Pakistan is facing myriad problems from militancy to a shaky economy, worsening power crisis and failing public education and healthcare systems.

Addressing the Lower House

Nawaz Sharif briefly addressed the parliament after his victory was announced. He began by thanking God for allowing him yet another chance to serve Pakistan and its people.

"I want to thank the people of Pakistan for placing their trust in PML-N and I will reciprocate by working hard. Their trust is an asset for me as well as my strength," said Nawaz.

"The people have decided and proven that they believe in democracy," Nawaz added.

Touching on pressing issues, Nawaz Sharif called for the United States to end its campaign of drone attacks in the country's tribal northwest.

"We respect the sovereignty of others and they should also respect our sovereignty and independence. This campaign should come to an end," he said.

Overcrowding causes delay

The session was delayed by an hour due to overcrowding in the parliament house as more than 2000 guests turned up to see the historic transition.

Guests, most of whom had legitimate passes to enter the parliament house, were shifted to the media gallery which frustrated reporters present at the venue. The house is meant to seat nearly 700 observers, thus the surplus of 1300 individuals added last minute chaos.

Speaker Ayaz Sadiq personally went to the media gallery to speak to disgruntled reporters and guests and urged for cooperation.

"I want to apologize to the house and our friends from the media and I take full responsibility for what has happened today. More cards were issued than capacity allowance," said Sadiq.

Oath disrupted

Maulana Fazlur Rehman of Jamiat Ulema-e-Islam-Fazlur Rehman (JUI-F) had to pause between his oath-taking as Nawaz Sharif walked in to the parliament. Slogans were chanted enthusiastically on Nawaz's arrival which made it difficult to administer the oath to Fazlur Rehman by Speaker Ayaz Sadiq.

Celebrations

Supporters of the PMLN celebrated by dancing to the tune of dhols on the streets and distributed sweets in Lahore and Multan even before the official vote count or announcement took place.

It was near certain that party Chief Nawaz Sharif would win the race to premiership owing to abundant support in the assembly.

Support

The Muttahida Qaumi Movement (MQM) had offered its 'unconditional support' to Nawaz Sharif. On Tuesday, Jamiat Ulema-e-Islam-Fazlur Rehman also promised to vote for Nawaz as a 'goodwill gesture'.

"Ideologically, we are closer to the PML-N. And as a goodwill gesture we have decided to support the PML-N and will vote for Nawaz Sharif," said Maulana Fazlur Rehman after a meeting with a PML-N delegation, comprising Ahsan Iqbal, Iqbal Zafar Jhagra and Khwaja Saad Rafique. JUI-F lawmakers had also voted for PML-N's candidates in Monday's election of National Assembly speaker and deputy speaker.
COMMENTS (82)
Comments are moderated and generally will be posted if they are on-topic and not abusive.
For more information, please see our Comments FAQ