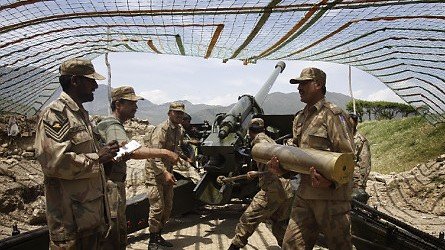 ---
ISLAMABAD:



Pakistan's military is all set to adopt a "new concept" of war for fighting future conventional threats, specifically pre-empting India's cold-start military doctrine, revealed security officials.




The new war concept, developed after four years of war games and military exercises, seeks to improve the mobilisation time of troops and develop an integrated response from the combined fighting arms of the army, navy and air forces, in case of a conventional military threat.

It will formally be put into practice with the culmination of the "Azm-e-Nou" war-games series this month. The exercises, which started in 2009, have been part of the army's new concept of war fighting, designed to respond to the threat posed by India's Pakistan-specific cold-start doctrine.

The cold-start doctrine is intended to allow India's conventional forces to perform swift and unexpected holding penetrations within the first 72 hours of hostilities.

The doctrine has been designed to give India an edge in the first few days of combat operations, before international pressure could be brought to bear on India and before the Pakistani military could respond effectively.




The Indian military, however, publicly denies the existence of any such doctrine. The final series of 'Azm-e-Nau IV' kicked off in Islamabad at the National Defence University on Monday to validate operational plans prepared in view of the emerging threat environment, said a senior military official.

All services chiefs are being hosted by Army Chief General Ashfaq Parvez Kayani for the finalisation of the new concept.

"The army war games are the culmination of a series of such exercises and aims at validation and crystallisation of operational plans prepared in view of the emerging threat environment," said a statement issued by the Inter-Services Public Relations (ISPR).

Operational plans of the Pakistan Air Force and Pakistan Navy are also being finalised in close coordination with the army.

The war games will continue for two weeks, the statement added.

Unveiling details of the concept, the military source said that after the implementation of the new war fighting strategy, the Pakistan Army would be able to mobilise its forces faster than India.

Published in The Express Tribune, June 4th, 2013.
COMMENTS (23)
Comments are moderated and generally will be posted if they are on-topic and not abusive.
For more information, please see our Comments FAQ