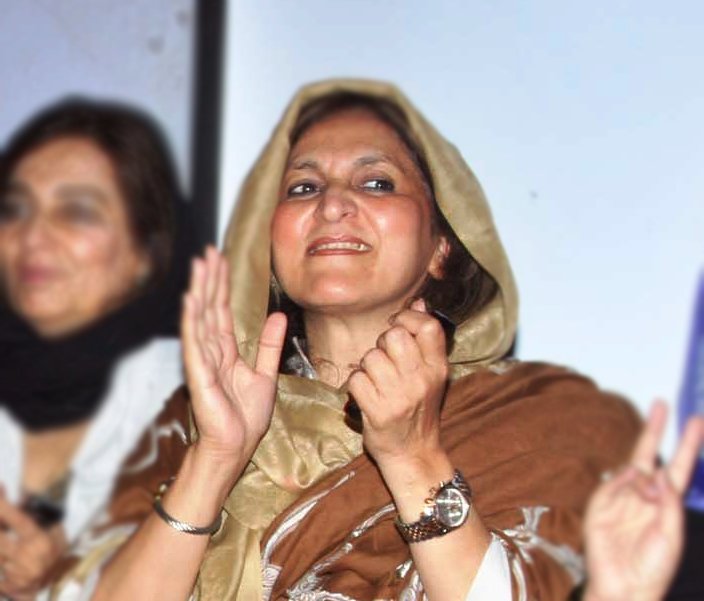 ---
LAHORE:



One of the central figures of Pakistan Tehreek-i-Insaf  (PTI) and a close associate of Imran Khan, Fauzia Kasuri has previously served as PTI women's wing president and a liaison person for the party's overseas chapters. Young party workers call her the mother of PTI and women workers adoringly stood by her side as she visited dangerous terrains in Pakistan, including Balochistan and Waziristan, for the sake of the party.




Today this woman feels she has been "deliberately sidelined".

Being raised in an influential family and married to an influential businessman, she says she had everything life had to offer. "I didn't join PTI because I thought Imran Khan will be in power. I joined him for his cause: justice. Today that very cause is at stake."

With PTI winning six reserved seats - four in Khyber Pakhtunkhwa and two in Punjab - Kasuri has lost the chance to represent the party in the assembly.

Looking back, Kasuri says she met Imran Khan in Bahrain in 1992, right after the Pakistan cricket team won the world cup. She hosted a small fund-raising lunch for Shaukat Khanum Memorial Cancer and Research Hospital and managed to collect $80,000 from the 50 people invited. Shortly after this, Imran Khan offered her to be a part of his political party that was established in 1996.

"I stood with Imran Khan when he lost all elections; when people made fun of him." After a pause to hold her tears back, she said, "I have no idea where I am going from here, but I am thankful for the association I have had with PTI." She stops and adds, "The party has been changing for a while."

In her opinion, it all started when "compromised people" were given a chance to join the party. Though she realises the dynamics of any political party and the fact that people have to be taken on board, she feels "parties must stick to their ideology".

She says her colleagues' apathy and Khan's silence give her signals that she is not needed anymore, since no one has contacted her or replied to her emails.

On questioning the possibility of electing women lawmakers from Punjab in the Khyber Pakhtunkhwa assembly thus giving her a chance, she said making a domicile was the way out. "If Pervaiz Musharraf could make Marvi Memon's domicile in one day, why can't we?"

US nationality and disqualification

"I have not seen my grandchildren in months. I am dying to hug them, but I cannot, because the US embassy turned it down saying that I will have to wait for my visa to come from Washington now. This is the price I am paying for my sincerity," says a teary Kasuri who gave up her US nationality on March 22, 2013 to be able to contest general elections.

During earlier meetings, she said, Khan would tell her to give up her nationality so that her credentials could be scrutinised. She said after she could not get the ticket due to the dual nationality issue, Khan publicly promised her twice of placing her first on the reserved seats. She says she was not consulted when the list was being prepared and her name on the fourth position came as a shock.

The dual nationality issue in Kasuri's opinion was dealt with bias and she accuses PTI's Hamid Khan, former Supreme Court Bar Association president, of it. She said after consulting Hamid Khan, who was heading the party's election commission, she filed her nomination papers and submitted an affidavit on a stamp paper. She was disqualified, while several other dual nationals were allowed to run the elections.

"On March 21, I filed a review petition against my disqualification from contesting intra-party elections. To date, Hamid Khan has not replied."

Moving forward?

For Kasuri, it is a time of difficult decisions to make. She says she has an offer from several other political parties and non-government organisations, but she is not sure about where she would go from here. She says politics is not the only way to serve people.

"I gave up my citizenship to serve Pakistan. If PTI doesn't want me, I'll find another platform."

Published in The Express Tribune, June 4th, 2013.
COMMENTS (72)
Comments are moderated and generally will be posted if they are on-topic and not abusive.
For more information, please see our Comments FAQ