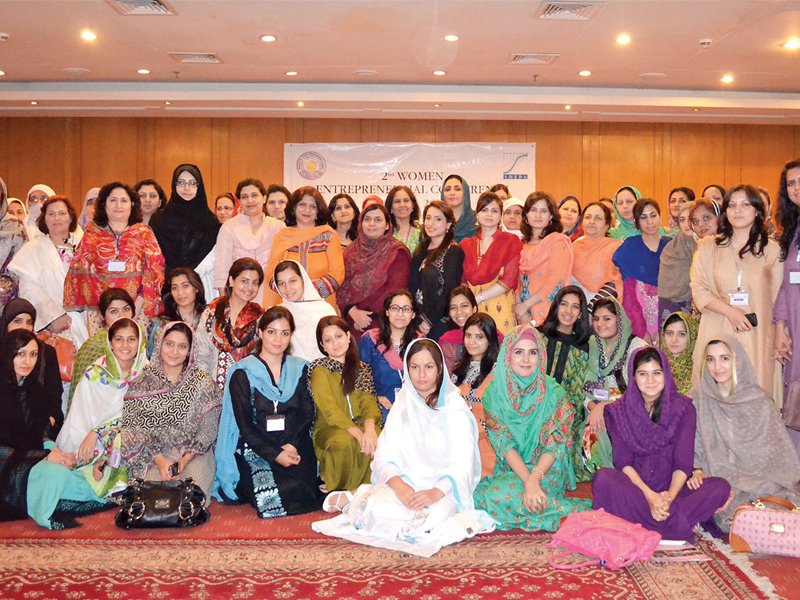 ---
PESHAWAR: Speakers at the 2nd women entrepreneurs' conference underlined the importance of innovation, adopting new technologies and providing businesswomen with a level playing field in Khyber-Pakhtunkhwa's (K-P) current economic climate.

The conference was organised by the Small and Medium Enterprises Development Authority (Smeda) on Monday, and was attended by entrepreneurs, business persons and other professionals from across the province. The event was aimed at gaining insight into the dynamic approach needed to enhance entrepreneurship and boost business activities among women in K-P.

"Women should not limit themselves to running beauty salons and boutiques. They should look ahead to other business activities as well," said K-P Chamber of Commerce and Industries President Dr Yousuf Sarwar, while speaking at the event. "The cultural, social and security conditions mar women's participation in business."

Sarwar maintained innovation was not a complex phenomenon and simultaneous attention should be given to technological advancement and customer needs. "We do not want ultra modernity, but if a level field is provided women can make a positive change."




Smeda Chief Executive Sardar Ahmad Nawaz Sukhera advised entrepreneurs to understand marketing strategies in order to diversify production. He revealed Smeda had finalised a five-year plan, which in addition to providing subsidised loans to women entrepreneurs, will also provide an online platform – a website known as the 'SME club' where entrepreneurs could display their products to capture the global market's attention.

Competitive advantage in a business environment could come from a number of sources: personal capacity, technology, finances and marketing strategy. "But entrepreneurs need to adapt to the dynamics of the changing business environment quickly," explained Sukhera.

During the course of the conference, women entrepreneurs presented suggestions and shed light on their success stories.

Mahnoor, a young businesswoman, said she was involved in glass printing, printed clothes and shawls. She claimed the local market was not large enough to support these products and asked Smeda to facilitate online marketing to increase access to other markets. Many businesses could do with initiatives such as these, she maintained.

Smeda has set up two business development centres in K-P for women; one in Peshawar and one in Swat. Other centres are planned for DI Khan and Abbottabad where aspiring female entrepreneurs will receive training and current information related to the evolving business sector.

Published in The Express Tribune, June 4th, 2013.