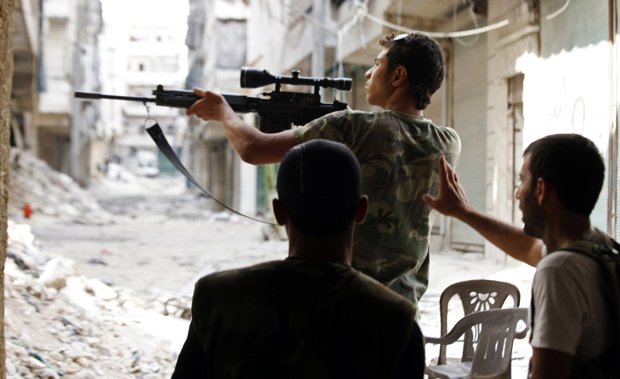 ---
BAALBEK: At least one member of Lebanon's Shiite group Hezbollah was killed overnight in clashes with Syrian rebels on the Syrian side of the border with Lebanon, a security source told AFP on Sunday.

"Clashes took place between a group of FSA (Free Syrian Army) and a group of Hezbollah members coming from Baalbek in a border area between the outskirts of Baalbek and Damascus province in Syria," the source said.

"One member of Hezbollah was killed along with several rebels," he said, without specifying how many rebels died.

The clashes took place in a mountainous region inside Syria between the Baalbek area of Lebanon, a Hezbollah stronghold, and Syria's Damascus province, where the border is often not clearly demarcated.

The clashes came after a barrage of rockets fired from Syrian territory at Hezbollah strongholds in Lebanon in recent days.

The Syrian Observatory for Human Rights watchdog, which has a network of activists, doctors and lawyers on the ground in Syria, confirmed the clashes, but was unable to say how many people were killed.

The conflict in neighbouring Syria has increasingly spilled over into Lebanon, with Damascus regime ally Hezbollah dispatching fighters to battle alongside the army against rebel forces.

The group's members have been particularly active in the fight for Qusayr, in the central province of Homs, a rebel stronghold that the regime is trying to wrest from opposition hands.

Sunni Lebanese citizens have also joined the fight on the side of the rebels, although reportedly in lower numbers than their Hezbollah counterparts.

The Syrian opposition has repeatedly warned Hezbollah to withdraw its forces from the conflict, and on May 26 two rockets hit a Hezbollah bastion in Beirut a day after the group's leader defended its role in Syria.
COMMENTS
Comments are moderated and generally will be posted if they are on-topic and not abusive.
For more information, please see our Comments FAQ