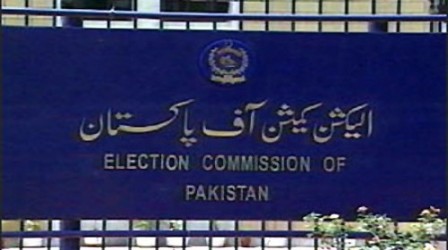 ---
ISLAMABAD: Pakistan Muslim League-Nawaz (PML-N) emerged as the major shareholder in seats reserved for women in the National Assembly, leaving its rivals Pakistan Tehreek-e-Insaf (PTI) and Pakistan Peoples Party Parliamentarians (PPPP) far behind.     

According to calculations by the Election Commission of Pakistan (ECP), PML-N will get a major share in the National Assembly by securing 34 out of 58 seats decided so far, followed by PPPP with seven seats, PTI with six, Jamiat Ulema-e-Islam-Fazl (JUI-F) with three, Muttahida Qaumi Movement (MQM) with four and one seat each by the Pakistan Muslim League-Functional (PML-F), National People's Party (NPP), Jamaat-e-Islami (JI) and Pakhtunkhwa Milli Awami Party (PKMAP).

The nominations approved by the ECP for PML-N out of 25 seats decided so far from the Punjab province include Anusha Rahman Ahmad Khan, Zaib Jaffar, Tahira Aurangzeb, Parveen Masood Bhatti, Ayesha Raza Farooq, Shaista Pervaiz, Nighat Parveen, Begum Majeeda Wyne, Khalida Mansoor, Asyia Naz Tanoli, Rida Khan, Seema Mohiuddin Jameeli, Shahnaz Saleem Malik, Laila Khan, Arifa Khalid Pervaiz, Surriya Asghar, Shahzadi Umerzadi Tiwana, Maiza Hameed, Farhana Qamar, Shaheen Shafiq, Iffat Liaqat, Shazia Ashfaq Mattu and Romina Khurshid Alam.

These names were earlier submitted by the PML-N, but according to the number of general seats, its number reserved seats for women will be higher. Therefore, the party has been asked to submit more names as the commission is confident that PML-N will get eight more seats, raising its tally from Punjab to 31.

PTI secured two reserved seats for women from Punjab, Dr Shireen Mehrunnisa Mazari and Munaza Hassan, while the decision is yet to be made on two more reserved seats.

There are a total of 35 seats from the province but the result has been announced on only 25 seats, with 23 going to PML-N and two to PTI.

Among the seats reserved for women from the Sindh province, out of a total 14, PPPP has secured seven, MQM secured four and PML-F, PML-N and NPP secured one seat each.

These MNAs-designate include Faryal Talpur, ShaguftaJumani, Nafisa Shah, Shazia Marri, Mahreen Razaque Bhutto, Alizeh Iqbal Haider and Mrs Musarat from PPPP; Kishwer Zehra, Tahira Asif, Saman Sultana Jaffri and Dr Nikhat Shakeel Khan from MQM; Reeta Ishwar from PML-F, Shahjehan from NPP and Marvi Memon from PML-N.

From Khyber-Pakhtunkhwa, out of a total eight seats reserved for women, PTI secured four seats with JUI-F secured two and PML-N and JI secured one seat each.

These members-designate include Nafeesa Inayatullah Khan Khattak, Mussarrat, Sajida Begum and Aaisha Gulalai from PTI; Shahida Akhtar Ali and Naeem Akhter from JUI-F; Begum Tahira Bukhari from PML-N and Aisha from JI.

From Balochistan, out of three seats reserved for women, PML-N, PKMAP and JUI-F each secured on seat. The members-designate are Kiran Haider, Naseema and Aliya Kamran, respectively.
COMMENTS (9)
Comments are moderated and generally will be posted if they are on-topic and not abusive.
For more information, please see our Comments FAQ