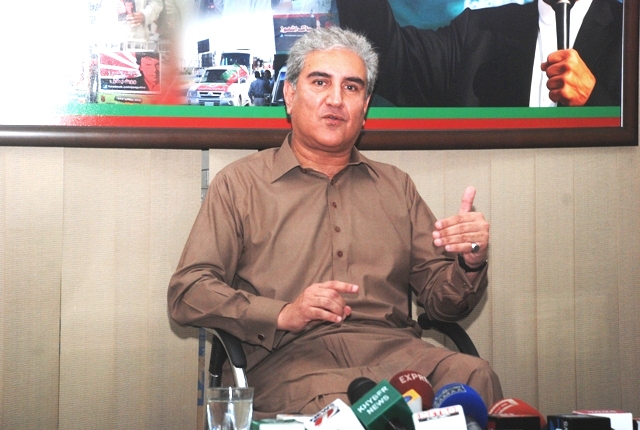 ---
KARACHI:



With the general elections wrapped up, re-polling in Tharparkar is now in the limelight. 




Scheduled for June 1, the Election Commission of Pakistan (ECP) ordered re-elections at 47 polling stations of the district, after reports of massive rigging and snatching of ballot boxes erupted.

Pakistan Tehreek-e-Insaf (PTI) Vice Chairman Shah Mehmood Qureshi has challenged the Pakistan People's Party (PPP) in the polls.

Qureshi, who is the spiritual leader of the Ghousia Jamaat, has considerable number of followers in the area. He may also win the re-polls, since Arbab Ghulam Rahim has withdrawn his candidate in Qureshi's favour and sources say Pir Pagara's Pakistan Muslim League-Functional (PML-F) is also supporting him.

"Shah Mehmood Qureshi and Pir Pagara held a meeting a few days ago," said a source privy to the development. "It has been decided that PTI members in Sindh Assembly would support PML-F in the opposition benches.  This has become possible because of Hur Jamaat's unconditional support to Qureshi."

The last two elections have shown that candidates from the Arbab clan have emerged victorious from the area. Time and again, Arbab Ghulam Rahim has nominated Ghulam Hyder Sameejo for NA-230. However, in the 2013 elections, since Qureshi was also in the running, Arbab consulted Pir Pagara and decided to withdraw his candidate, fielding Sameejo for PS-63.

Unofficial results of NA-230 reveal that Qureshi took the lead with 45,612 votes against PPP's Noor Muhammad Shah Jilani who got 44,001 votes.




Alleged rigging

ECP sources say that out of 213 polling stations, results of 43 were suspended due to rigging in the area.

"We would have won the seats if Arbab Ghulam Rahim's people had not snatched ballot boxes and burnt ballot papers in PPP dominated areas," Jilani told The Express Tribune.

He alleged that gunmen of Arbab Ghulam Rahim group had not only hijacked the polls, but threatened people to not cast votes in PPP's favour.

"Police arrested the former Taulaka nazim, Dilawar Maalkani – who belongs to the Arbab clan – and recovered snatched ballot papers from him," he said. According to ECP officials, more than 40 FIRs have been lodged in Nangar Parkar and Chhacharo areas on the complaint of the district returning officer.

"Gunmen belonging to different groups and parties attacked the polling staff and snatched the ballot papers. We cannot blame one specific party, but activists belonging to different parties created mess in the areas given the lack of proper security arrangements," said Provincial Election Commissioner SM Tariq Qadri.

On the other hand, Arbab Ghulam Rahim, who has recently joined PML-N refuted the allegations against him and said the area belonged to his voters and PPP has nothing to do in the constituency.

"State machinery is being used against us in Thar. How is it possible for us to hijack votes in the presence of PPP government disguised as the caretaker setup," he said.

Published in The Express Tribune, May 28th, 2013. 

Correction: An earlier version of this story erroneously stated Shah Mehmood Qureshi was contesting as an independent candidate in the district. The error is regretted. 
COMMENTS (14)
Comments are moderated and generally will be posted if they are on-topic and not abusive.
For more information, please see our Comments FAQ