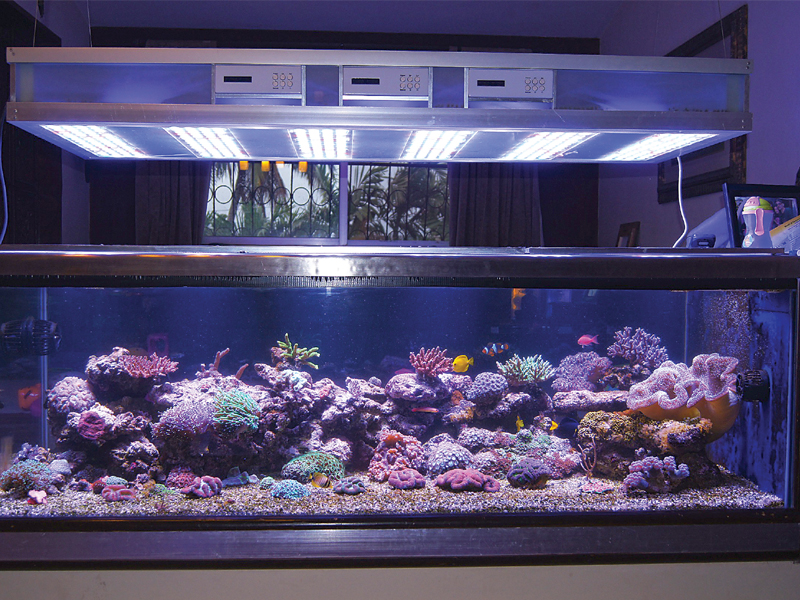 ---
KARACHI: Never judge a book by its cover, or a shop from its facade, for you never know the wonders which lie inside. 

From the outside, Aquatic Koncepts, a shop on Zamzama, looks nothing out of the ordinary. You may pass by it countless times without noticing its presence. But if you were to make your way inside, you would be overwhelmed by a myriad of colours: dozens of tiny species dart about in their small water worlds.

Banker Irfan Mirza opened the shop, which in his words sells "everything related to marine life", on May 1 this year. Rows upon rows of aquariums line the walls up to the ceiling in the cramped space of the shop, giving the viewer a feeling of having suddenly woken up on the ocean floor.

Mirza partnered with another marine lover, Brendon Mosscrop, in setting up the venture. "Mosscrop specialises in aquariums and my specialty is the chemistry of water," said Mirza, adding that they had pooled in their individual expertise.

They sell marine specimens, including exotic fish such as Anthias, Purple Tangs and True Perculas. It is a colourful collection even Poseidon himself would be proud of. They also build aquariums for customers.

How it all began

"I was always into fish," Mirza recalled. "When I was 12 years old, I got myself about two dozen tetras. These are small, blue and red coloured fish which glow under light."

He remembered visiting a shop on Tariq Road a few years back which stocked a substantial variety of fish and marine species. "I decided then to get an aquarium made for myself in 2008," said Mirza. He started adding corals, shrimps and anemones to his marine collection. "I realised that I needed a bigger tank." Mirza then had a huge saltwater aquarium built which contained 120 gallons of water and occupied half of his living room.

When he decided to pursue his interest in marine life even further, he was told that ventures like these do not succeed in Pakistan. He recalled the journey from owning the aquarium to setting up his shop. "Many shopkeepers stock fish and fish products but no one specialises in the sale and care of marine fish," said Mirza. He felt that many people who wanted to own marine creatures were deterred from pursing their interests because they didn't know how to care for them. "I decided then to set up a shop of my own. I have made a point to keep it fully stocked."

The businessman within

Mirza brought two small shops located next to one another in Zamzama and had the wall dividing them demolished. He then filled the space with smaller, ready to sell aquariums. "I hope to expand further down the street and hopefully buy two more shops to add to mine." Mirza said his family didn't share his passion for marine life. "They realised that opening up a shop in addition to my regular job as a banker meant that I would have lesser time for them." Mosscrop said that aquariums could sell for anywhere between Rs10,000 to 10 million. "The biggest aquarium we built was a 10-feet-long, three-feet-wide and two-feet-high construction," he added. "It was for an African national." Mirza added that they wanted to cater to marine lovers in the corporate sector.  "We lost some money in the beginning when we were experimenting," he recalled. "We also had some marine casualties." Mirza and Mosscrop explained they wanted to share their experiences so that the people didn't make the mistakes they had made.

Published in The Express Tribune, May 28th, 2013.