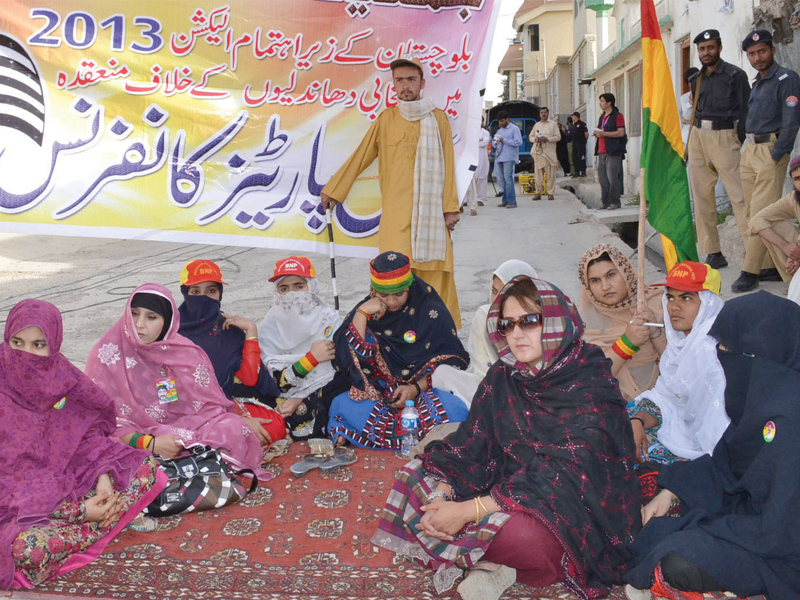 ---
QUETTA:



For the first time since the May 11 polls, key parties of Balochistan staged a collective demo outside the Provincial Election Commission premises on Sunday to protest the "fake leadership" imposed on the province through widespread rigging in the May 11 polls.




Members of the All Parties Conference chanted slogans against what they alleged was a "record incident of rigging." This was the first time that major parties in Balochistan are protesting election results collectively. Earlier, parties had protested the outcome individually by holding sit-ins outside the provincial poll body office.

The protesters included members from JUI-I, PTI, BNP-M and Ahle Sunnat Wal Jamat. Balochistan office-bearers from each of the party addressed the protesters.

"Had there been such mass-scale rigging in Karachi, Lahore, Islamabad or Peshawar, the entire country would be protesting," they said. Party leaders said that they were aware that polls would not be free of rigging; yet, they geared for the elections in order to observe democratic norms.

Sardar Akhter Jan Mengal, the President of BNP-M, is the true representative of the masses, said some leaders. Poll results were changed during the night in utter disrespect of the public mandate, they alleged. They also lamented that the Election Commission of Pakistan had not taken notice of this mismanagement.

A number of resolutions were adopted on the occasion to press for re-election in Balochistan.

They demanded of the electronic media to cover their protest comprehensively.

Moreover, all party leaders publicly agreed that record rigging took place in the elections of May 11, adding that clear evidence of rigging was present with them.

"The way of the true representative parties was barred to assemblies through favourite parties," they said and added that no one was ready to listen to the grievances of Balochistan.

The establishment has exhibited a 65-year-old rotten mindset and imposed a "fake leadership" on the masses; they added that the masses vote were recovered from dumps of garbage and fake votes were cast to ensure that favourite candidates were successful.

The Central Secretary of JUI-I Maulana Abdul Qadir Looni, Provincial President of PTI Qasim Khan Soori, Central Secretary Information of BNP-M Agha Hassan Baloch, leader of Ahle Sunnat Wal Jamat Maulana Kabeer Shakir, JUI-I leader Maulana Mehmood ul Hassan Qasmi, Ahmed Nawaz of BNP-M and others addressed the protestors.

Published in The Express Tribune, May 27th, 2013.
COMMENTS
Comments are moderated and generally will be posted if they are on-topic and not abusive.
For more information, please see our Comments FAQ