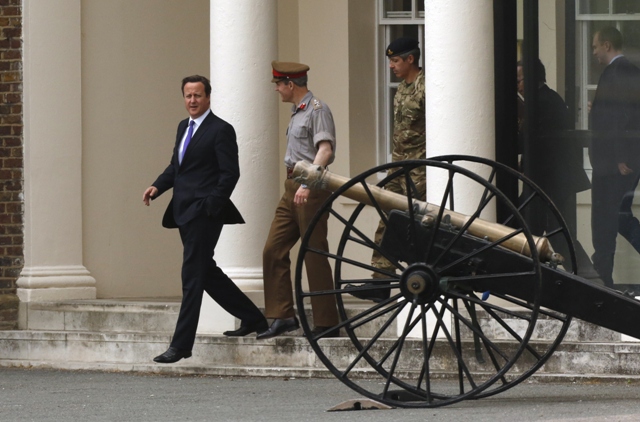 ---
LONDON: British Prime Minister David Cameron vowed on Thursday that Britain would be resolute against violent extremism following the gruesome murder of a soldier by two suspected militants on a London street.

After chairing a meeting of security chiefs the day after the soldier was hacked to death in broad daylight, he said Britain's communities would unite in condemning an attack he described as a "betrayal of Islam".

"This country will be absolutely resolute in its stand against violent extremism and terror," he told reporters outside his Downing Street office.

"This was not just an attack on Britain and on the British way of life. It was also a betrayal of Islam and of the Muslim communities who give so much to our country."

Wielding knives including a meat cleaver, two men carried out the attack on Wednesday afternoon near the Royal Artillery Barracks in Woolwich, southeast London, then delivered an extremist tirade to passers-by.

Chilling amateur footage of one suspect showed him still holding blood-stained knives, telling a member of the public they killed the victim "because Muslims are dying daily by British soldiers".

The suspects were shot by police after the attack and spent the night in separate hospitals under armed guard.

The victim has yet to be formally identified. His murder is the first fatal militant attack in Britain since 2005, when suicide bombers killed 52 people on London's transport network.

Cameron cut short a visit to Paris in order to chair a meeting of the government's emergency response committee, COBRA, which had already met in the hours following the attack.

Defence and interior ministers attended the meeting along with intelligence chiefs, the head of Scotland Yard and London mayor Boris Johnson.

Meanwhile counter-terrorism police have launched a large-scale investigation into the killing. Officers were conducting searches near the murder scene on Thursday, and confirmed that they had raided an address in Lincolnshire, eastern England.

Media reports said the suspects were believed to be Britons of Nigerian descent, but they were not thought to have links to Nigerian militant groups such as Boko Haram.

Cameron declined to comments on reports that the men were previously known to intelligence officials, but he hinted that police and security agencies could face probes into how the attackers slipped under the radar.

In the video, which has gone viral on the Internet, one of the suspects is seen walking around with bloody hands and tells the camera: "You people will never be safe."

Speaking in a London accent the man, who is black, makes various political statements including a demand for Cameron to "bring our troops back".

Shocked eyewitnesses described how the men stayed at the scene after the killing, asking passers-by to photograph and film them.

"I apologise that women have had to witness this today, but in our lands our women have to see the same," said the suspect, who was wearing a hooded jacket and a black woolly hat.

Media reports citing witnesses said the men first ran over their victim in a car before finishing him off with the knives.

Several witnesses said he had been decapitated.

Rapper Boya Dee, who witnessed the incident, wrote on his Twitter account: "Ohhhhh myyyy God!!!! I just see a man with his head chopped off right in front of my eyes!"

Reports said the victim was wearing a t-shirt bearing the logo of the British military charity Help for Heroes.

-- 'We want to start a war in London' --

A female scout leader has shot to fame after she confronted the assailants shortly after the attack, telling them: "It is only you versus many people. You are going to lose."

Ingrid Loyau-Kennett, 48, told the Daily Telegraph that when she asked one of the suspects why they had killed the soldier, he said: "We want to start a war in London tonight."

The Muslim Council of Britain described the murder as "a truly barbaric act that has no basis in Islam".

Late Wednesday around 250 members of the anti-militant English Defence League were involved in minor scuffles with police at a train station in Woolwich, while two men were arrested overnight after separate attacks on mosques in southeast England.

Security has been strengthened at all army barracks in London. The British flag was lowered over the Woolwich barracks -- which was the venue for shooting events at the London 2012 Olympics -- and flowers have been laid outside.