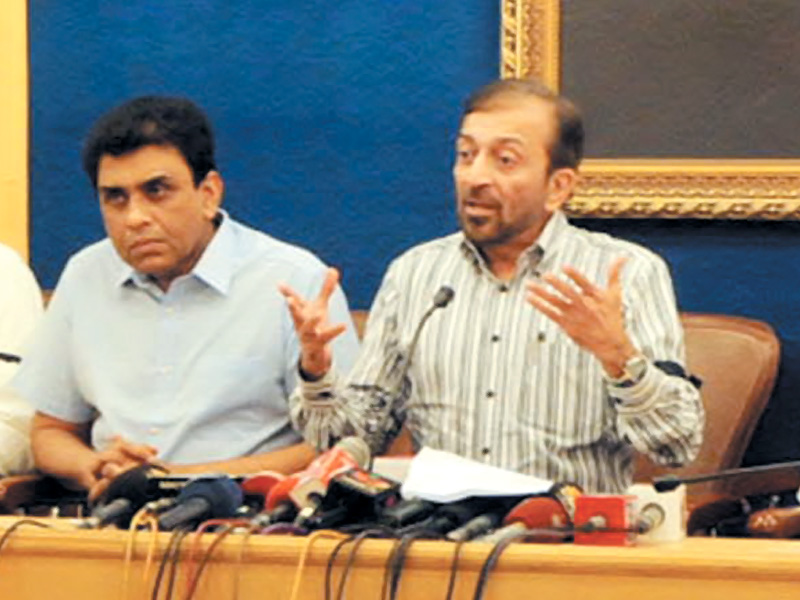 ---
KARACHI: The Muttahida Qaumi Movement (MQM) Rabita Committee in Pakistan and London have been dissolved, reported Express News on Thursday. 

A new Rabita Committee will be formed and announced on Saturday at a meeting scheduled by chief Altaf Hussain.

For overseeing matters temporarily, a seven member committee has been formed which include senior representatives of the party.

MQM chief Altaf Hussain dissolved the party's Karachi Tanzeemi Committee on Tuesday night, following complaints received from his workers regarding the committee's inefficiency.

The move to dissolve the committee comes days after an incident took place at the MQM headquarters of Nine Zero early Sunday morning, when workers of the party manhandled not only members of the MQM's Coordination Committee but journalists as well. This action of the workers followed Altaf Hussain's criticism of the MQM's Coordination Committee.

Altaf Hussain criticised the MQM Coordination Committee in a telephonic address for failing to act against those who insulted him. This charged emotional party workers against the Committee.

Altaf's criticism of the committee was in relation to allegations put forward by Pakistan Tehreek-e-Insaf (PTI) chairman Imran Khan of murdering senior female party worker, Zahra Shahid Hussain.

The Coordination Committee on Wednesday said that the basic party membership of Karachi Tanzeemi Committee (KTC) in charge, Hammad Siddiqui had been terminated. The decision to terminate KTC in-charge's membership came shortly after MQM announced its decision to dissolve the Karachi Tanzeemi Committee itself.

In his telephonic conversation with MQM party workers, MQM chief emphasised that if any member is found asking for money from shops and businesses, his membership should be immediately terminated.

The MQM chief added that membership should also be revoked of  party workers who have illegally occupied properties and buildings in the city.

Correction: An earlier version of the story contained a minor grammatical mistake. The error is regretted.